Neon One has established a new method to provide product feedback and suggestions using the new Suggestion Portal. Using the new Suggestion Portal, customers can submit and follow an idea from conception until it appears in the product. This allows:
Real-time link to Neon One product management process.

Integration into Neon One software development tools that allow you to see major status changes to your suggestion.

The fastest and most reliable way Neon One can keep you updated on suggestions and how work is progressing.
As long as you have access to a Neon One product using Single Sign On (SSO), you'll be able to log in leveraging your Neon One account information.
Accessing the Suggestion Portal
Once you're in a Neon One product, you'll be able to select the new Question Mark (?) in the top navigation and select the "Suggestion Portal" link.

You will be automatically taken to the Suggestion Portal and will be able to see the products that you have access to. After selecting the product, you will be able to:
Share your suggestion,
Vote on suggestions others have contributed,
Provide additional thoughts and feedback on suggestions through comments,
Communicate the importance of a suggestion to your organization with Neon One, and
Much more!
Submitting a Suggestion
Select the relevant Product from the cards on the Suggestion Portal.

Enter your idea title in the "Enter your idea" bar.

As you type the system will determine if there are ideas that could be related. Review those ideas before creating a new idea.

If nothing exists that would relate to what is typed, complete the remainder of the title and add a description to your idea.

Select the POST IDEA to submit.

You will see the idea available on the Web Portal and the ability to define how important the idea is to you (Not at all, Important, Critical).
The Suggestion Process
When a suggestion is shared, the process below begins to determine the outcome of the suggestion. As suggestions move through the process noted below, you will be notified (if you chose to be) when the suggestion changes statuses.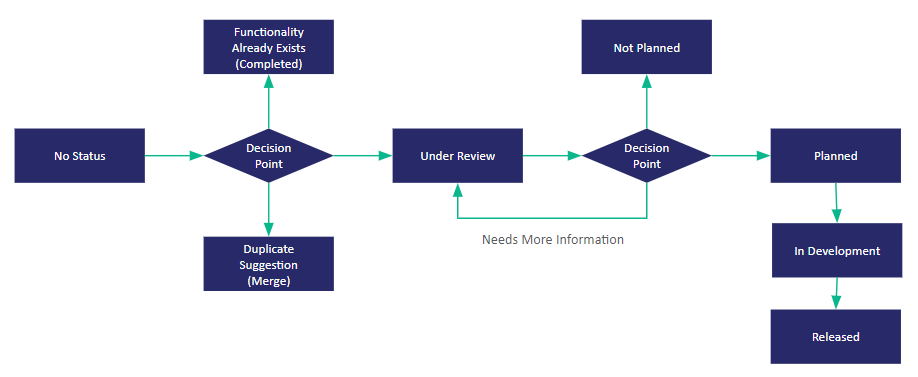 | | |
| --- | --- |
| Status | Definition |
| No Status | This is the state of all submissions to Neon One before review |
| Functionality Already Exists | The current product(s) already support the submitted suggestion. This will be moved to the "Released" status. |
| Duplicate | The suggestion has been requested before and the idea is merged with the original suggestion. |
| Under Review | The suggestion is awaiting market validation of the request or for additional information to be provided before a decision will be made. |
| Not Planned | The suggestion does not align with Neon One's strategy or approach and will not be implemented in a current or future product at this time. |
| Planned | The suggestion was approved by the Product Team to continue additional discovery and has been placed in a Product Backlog for prioritization in a future release. |
| In Development | The suggestion is currently being designed, developed, and tested. |
| Released | The suggestion has been delivered to customer environments, and the suggestion is closed. |