Fundraisers can create Facebook Fundraiser pages directly from their fundraiser dashboard, which they can then share with their network of family and friends. Donations solicited on Facebook are synced to their fundraising page on Neon Fundraise and vice versa, ensuring that the amounts raised on fundraising page and Neon Fundraise are always in sync. Organizations can promote the Facebook Fundraiser integration to their fundraisers to expand the field of influence, broadcast to more people, and receive more donations! Continue reading to get started with Facebook Fundraiser.
Configuration
To configure Facebook Fundraiser for your campaign, please contact support at fundraisesupport@neonone.com In your request, please include the Facebook page/charity ID under which fundraisers will create their pages (and to which the fundraising efforts will be directed). If you would like to configure multiple Facebook pages, include all the desired page IDs, as well as a map of which Neon Fundraise campaigns or entities should be associated with which Facebook pages.
Once the integration is enabled, an "Enable Facebook Fundraiser" setting will appear in the Fundraising Settings section of the Admin. This allows you to enable or disable the integration for individual campaigns or entities within your Neon Fundraise organization.
Additionally, administrators can add "Create a Facebook Fundraiser" as a task in the fundraiser task list and startup guide. This is done under Fundraising > Task List and Startup Guide, respectively, in the Admin.
Creating a Facebook Fundraiser
To create a Facebook Fundraiser, fundraisers should follow these steps:
Log into the campaign site, from which fundraisers should be brought to their dashboard.
In the fundraiser dashboard, click the "Create Facebook Fundraiser" button below the task list on the right.
In the ensuing popup, set page title, message, and end date, and click "Create Fundraiser".
If the user is not logged into Facebook, they will be prompted to do so in a new window. Additionally, the user will be prompted to grant requisite permissions.
Share and promote the Facebook Fundraiser page!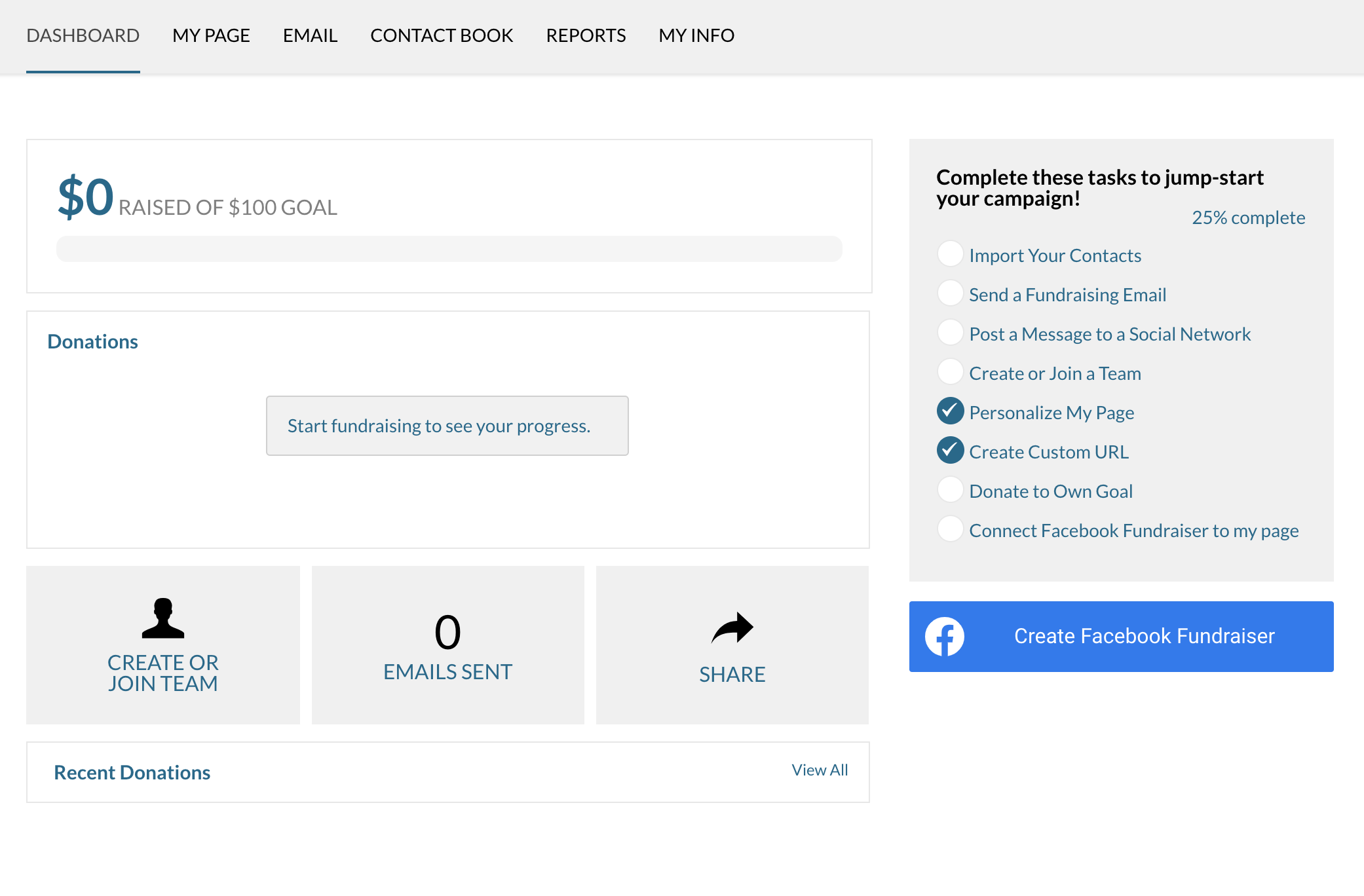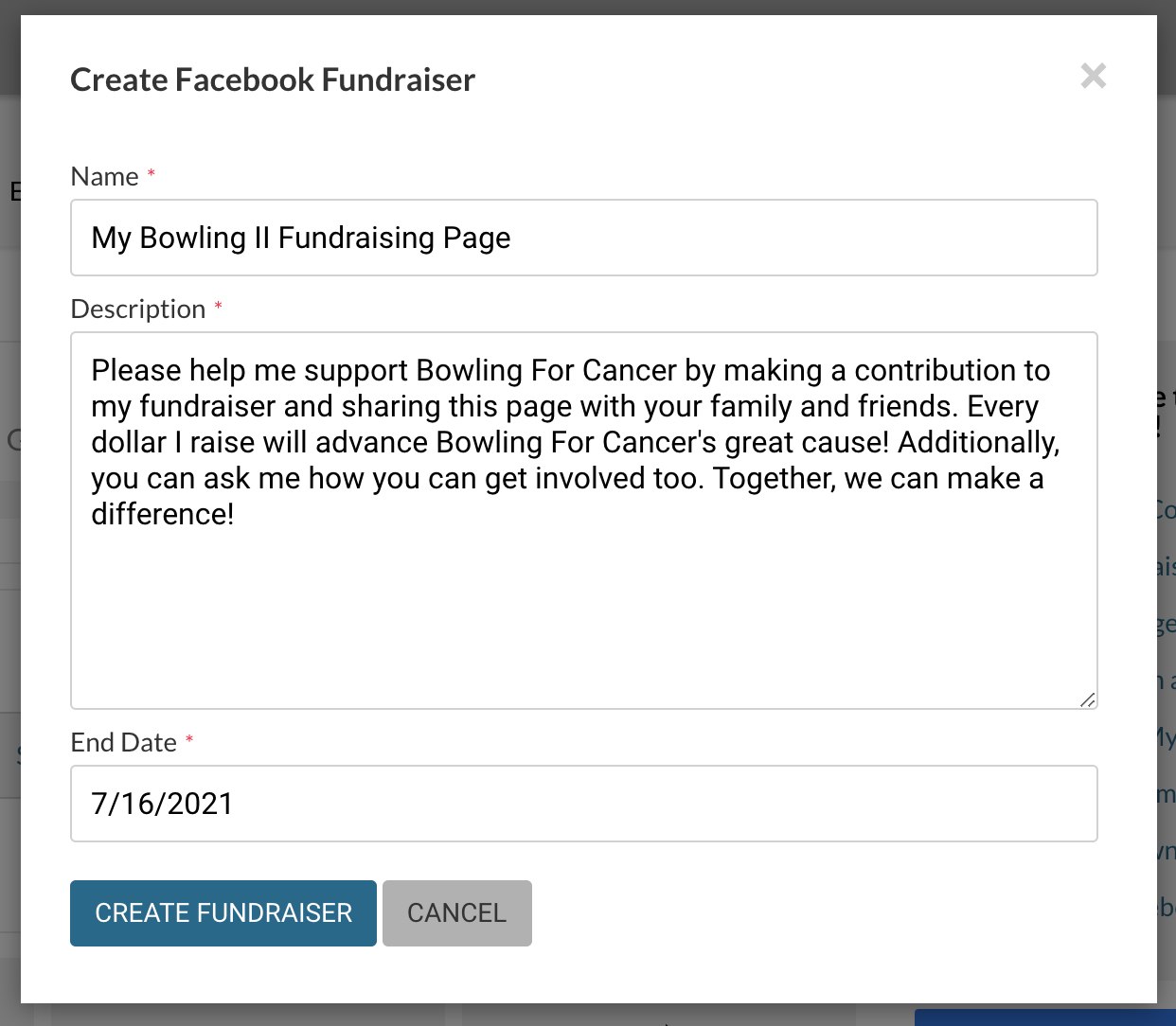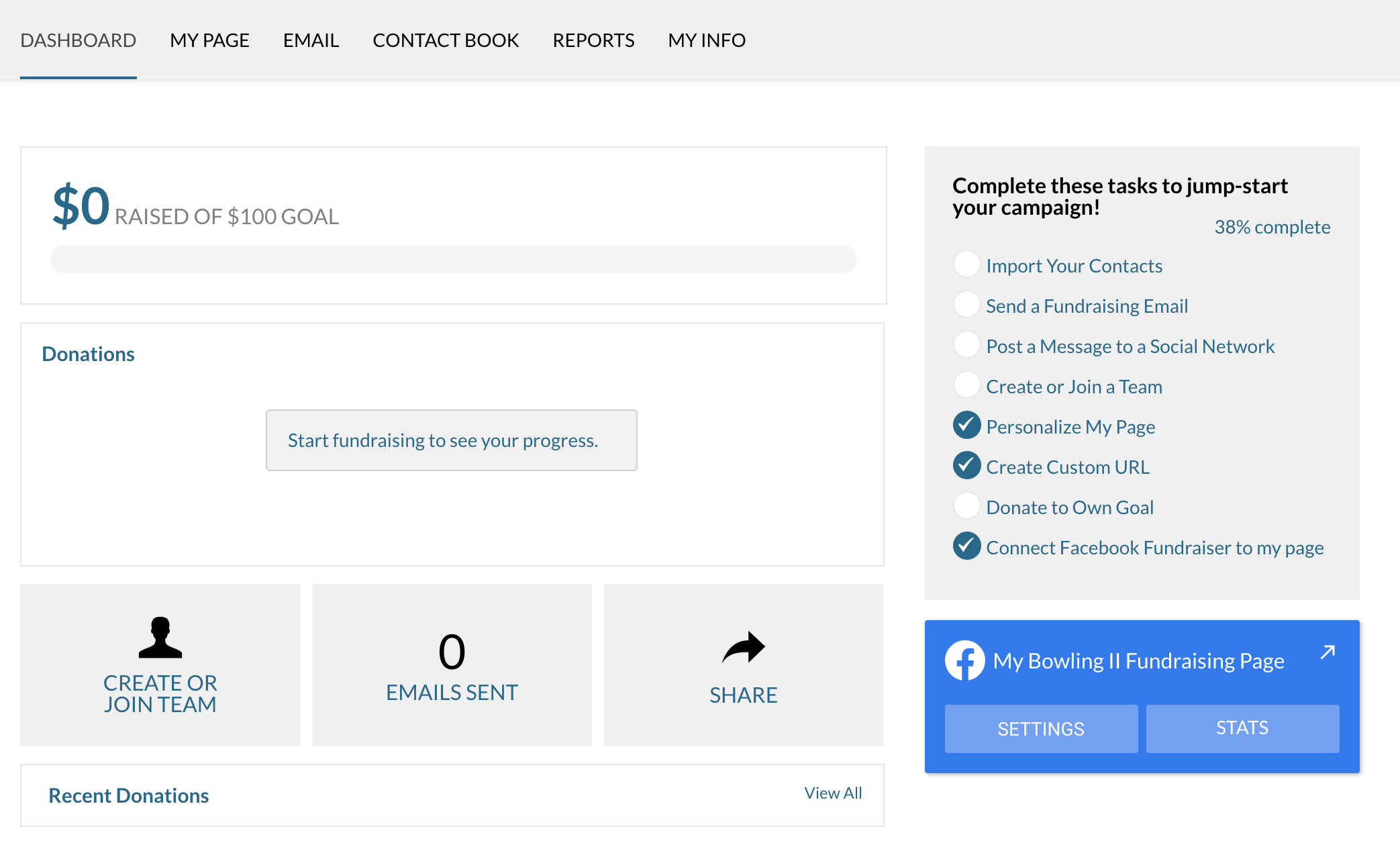 Accessing an Existing Facebook Fundraiser
Once the fundraiser is created, fundraisers can modify the page title, message, and end date by clicking "Settings" on the Facebook card below the task list in their dashboard. They can also end the Facebook Fundraiser outright from this interface.
Fundraisers can view Facebook-specific stats (donations, donors, etc.) by clicking the "Stats" button on the Facebook card. This directs the user to the Reports tab, filtered to show only Facebook transactions.
Administration
Administrators can view and report on donations imported from Facebook in donations grids and reports. Imported donations are treated by the system as standard donations in grids and reports, but are marked with the "Facebook" payment type to differentiate them from other donations.
Administrators can also report on fundraisers who have created a Facebook Fundraiser in registrant grids, records, and reports. Administrators can also end individual Facebook Fundraisers from the member record in the Admin, under People > Registrants.
Custom triggers and conditions can be created based on whether a fundraiser created a Facebook Fundraiser. Fundraisers who created a Facebook Fundraiser can also be differentiated in liquid using the user attribute "Connected_Facebook_Fundraiser".
Please note: Donations that are submitted to the Facebook donation page and synced to your Neon Fundraise campaign will display the donor name as Anonymous.