With flexible scheduling options for reports, administrators can receive the latest data from their fundraising campaigns directly to their inbox. Reports can be scheduled to be sent as a CSV file to a specified email address or preconfigured Dropbox account on a recurring basis.
Scheduling a report
This feature supports most reports (see below for a complete list). To schedule a report, follow these steps:
Log in at admin.rallybound.com
Navigate to the campaign on which you'd like to schedule your report
Click "Reports"
Double-click on the report you'd like to schedule
Click the button labeled Schedule Report in the report toolbar
Enter the desired parameters for your report:


If a Dropbox integration is configured on the campaign, choose whether to email or send to Dropbox
Email address to send to
Choose the date and time the report should first be sent

Time used here is the user's local time

How often to send the report (choose a number and an interval period)

Note: if an hourly interval is selected, only incremental reports can be selected in the next field

Send full or incremental report

Full Report: Every sent report contains all relevant data
Incremental Report: Each report contains only new data captured since the last report was generated

Click Schedule Report
Done! Now just sit back and wait for the scheduled report to appear in your inbox or Dropbox!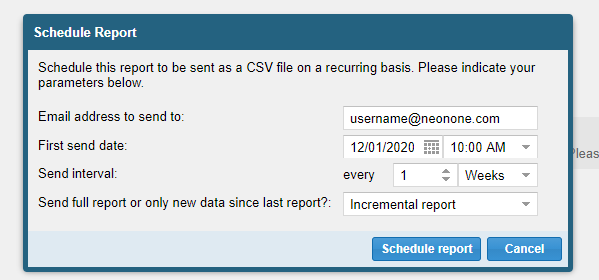 Cancelling a scheduled report
The report recipient may choose to stop receiving scheduled reports by clicking the relevant link within the body of the email:
To stop receiving this report, please click here.
For dropbox users, please contact support to request a stoppage for your scheduled report.
Supported Reports
The following reports support the scheduling functionality. Saved versions and ALL CAMPAIGNS versions of a listed report are also supported.
Counts and Totals
Credit Card Payments - ALL CAMPAIGNS
Donation Amounts
Donations
Donations with tribute notifications
Donors including registration fees
Donors (verified donations)
Endurance Activities
Form Submissions
Fundraisers with Donation and Contacts Summary
Fundraisers and Teams
Purchased Tickets
Recurring Donations
Registrants with Reg Fields, Donation and Contacts Summary
Salesforce Sync Donations
Teams with Summary
Transactions
User Accounts