National teams allows organizations to aggregate and display fundraising efforts of teams and fundraisers across campaigns towards one national goal.
Note
This feature is only available in our Enterprise License Package Tier. Please contact support to upgrade to this tier and gain access to this feature.
Viewing National Team Information
National teams and their associated information can be viewed in the Admin from any entity on which the national team is applied. To view and edit national team information, follow these steps:
Log into the Admin at admin.rallybound.com
Navigate to the entity (organization, group, or campaign) on which the relevant national team is applied. Click here to learn more about inherited settings.
Click the "People" tab
Click "National Teams"
Hover over the desired national team, then click "View"
The national team information will be presented in a lightbox.

Here, you can view and edit team name, image, custom URL, description, goal, and type.
You can also view national team stats in the left sidebar, which includes amount raised, team count, and member count.
To view and/or add national team managers, click the "Managers" tab within the lightbox. This will show you all existing team managers and present the option to add more. Click here to learn more about team managers.
More national team information, like a list of associated teams and team members, along with recent donations, can be viewed on the national team page. Also on the national team page is the team image, welcome message, and more. Click here to learn more about the national team page.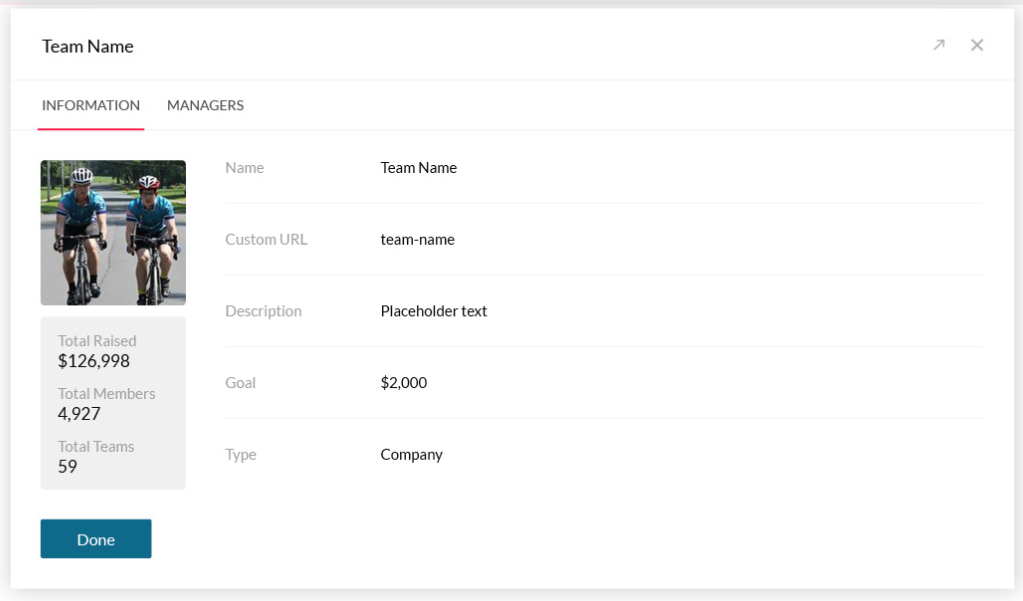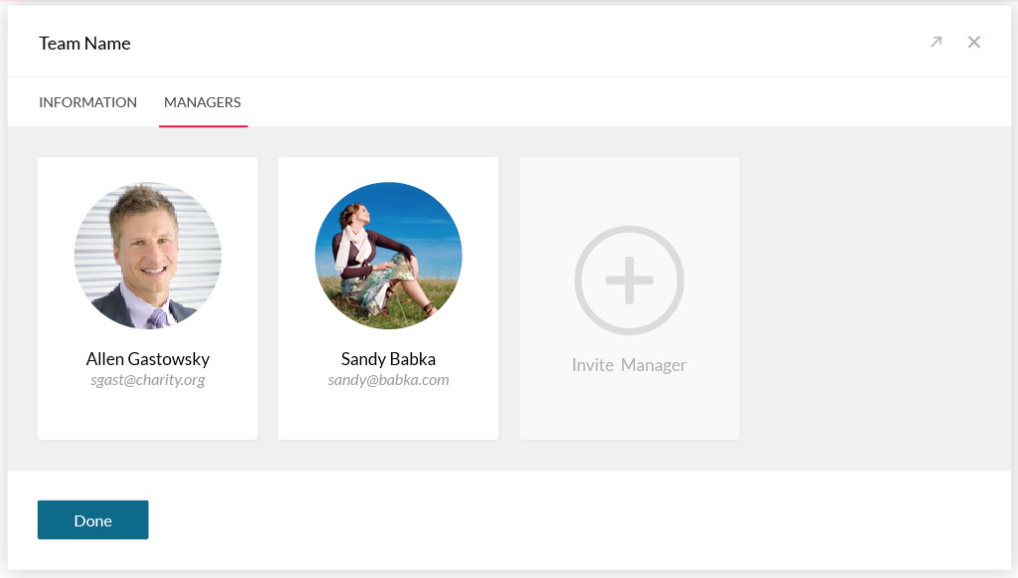 National Teams Reports
The "National Teams" report, available in the Admin, lists all national teams in an organization, with information like name, URL, goal amount, amount raised, and team and member counts.
Viewing Associated National Teams for Teams and Fundraisers
To view a national team associated with a local team, navigate to that local team's record in the Admin. The associated national team is listed in the National Team field. Any fundraiser on that team is also a team member of the associated national team.
Additionally, national team associations of local teams and fundraisers can be viewed in the following reports:
Teams with Summary
Fundraisers with Donation and Contacts Summary
Registrants with Reg Fields, Donations and Contacts Summary