Champion Campaigns allow fundraisers to create full-fledged campaigns within which they can accept donations, promote and sell tickets to an event, and even invite friends and family to fundraise around that event. This encourages advocates to bring in their acquaintances, who in turn include their own acquaintances for exponential growth.
Champion Campaigns in the Admin
Champion Campaigns are full-fledged campaigns that appear in the Org Admin just like any other campaign. In that vein, administrators with the correct permissions have full access to Champion Campaigns and can modify them as they would any other campaign (aside from the Campaign Settings tab, which is hidden from Champion Campaigns).
Upon creation, Champion Campaigns are added to a specified group in the Org Admin (see below). Champion Campaigns are identified by an orange person+megaphone icon, and can be filtered out of the list view using the standard filter feature above the campaigns list. In this list, the Champion creator is listed under the campaign name. In the campaign details view, the Champion creator is listed under the campaign type. Both include a link to their registrant record on the Champion's parent campaign.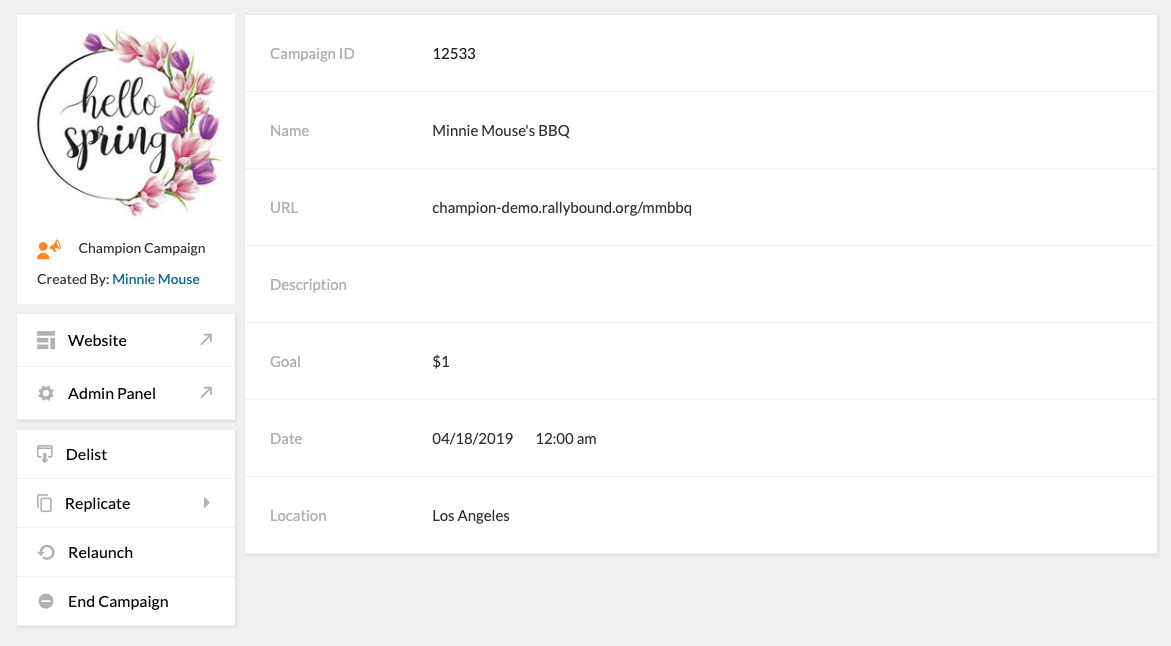 Champion Campaigns can be published, delisted, replicated, ended, and relaunched just like any other campaign, though replicating and relaunching does not associate the new campaign with the Champion who created the original.


Note about amounts displayed in the Org Admin
When calculating amount raised in the Org Admin, the total amount raised on a Champion Campaign will appear on the Champion Campaign itself as well as on the parent campaign. For example, if the Champion Campaign raised $500, that amount will appear on the Champion Campaign. If the parent raised $1,000 independent of all Champion Campaigns, it will display a total amount raised of $1,500, including its own amount and the amount raised by its Champion Campaigns. However, the group that houses the parent campaign will omit the additional amount from the parent campaign, instead pulling that amount directly from the Champion Campaign. In our example above, the group will also display $1,500, as that's the true total of the parent ($1,000) and the Champion Campaign ($500). This gets a little more complicated if a Champion Campaign is moved out of its group — in this scenario, the parent will still display $1,500 (including the Champion amount), but the parent's group will display only $1,000, reflecting the amount raised by the parent alone. For this and other reasons, moving Champion Campaigns out of their designated group is highly discouraged.
Champions
A fundraiser who creates a Champion Campaign is called a "Champion". Champions are recognized by the system as a type of administrator. Consequently, Champions manage their campaigns through the Admin Panel and the front end site editor, just like any other administrator on any other campaign. However, Champions access the Admin Panel differently than regular administrators in that they do not navigate to admin.rallybound.com to log in to their Admin Panel. Rather, they can only access the Admin Panel by clicking the "Manage" button that is displayed on the Champion Campaign card that appears in their Fundraiser Dashboard. Similarly, Champions do not show up as administrators in the Org Admin administrator list at all.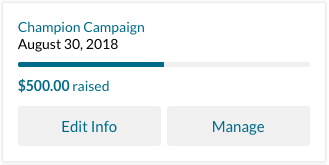 Notifications
As a type of administrator, Champions by default receive administrator notifications for all activity that happens on the Champion campaign they created. Champions can manage whether to receive these notifications in their user profile section, under Notifications, by simply ticking or unticking the checkbox next to their Champion Campaign.
The notification emails that the Champion receives are Neon Fundraise's standard admin email notifications, custom-branded by dynamically populating the organization's logo in place of Neon Fundraise's. These emails are not editable. Emails that are relevant to the Champion include:
Donation Notification
Ticket Purchased Notification
Registration Notifications
Goal and Page Change Notifications
Permissions
A default security role determines which elements of their campaign Champions are able to manage. This role appears in the Org Admin Security Roles tab, and is called "Champion". Administrators can configure this role to restrict or allow elements of the Admin Panel to Champions. See below for the default configuration of this role.


Default Champion Role Permissions
Campaigns: Edit
Transactions: Edit
Admin users: None
People

Contacts: None
Donors: Edit
Registrants: Edit
Teams: Edit
Member Merge: None
Log in as user: None

Email

Send Emails: Delete
Admin Email Templates: None
Fundraiser Email Templates: None
Auto Responders: None
Custom Auto Responders: None
Header and Footer: None
PDF Receipt Template: None
Pending Admin Emails: None
Sent Admin Emails: Delete
Sent Auto Responders: None

Settings: None (this tab is completely unavailable on Champion Campaigns)
Registration Fields: None
Discount Codes: None
Site Content

FAQs: None
Sponsors: None
Blog Feed: None
Media Library: None
Edit Content on Site: Edit
Personal Page Defaults: None

Ticket Builder: Delete
Form Builder: None
Reports: None
On Site: None
Admin API: None
Causes: None
Note
For security reasons, the Champion campaign site's text editor is restricted to specific styles and tags for Champion fundraisers.

Deleting a Champion
Champions can be deleted like any other registrant from the Registrants tab in the Champion parent campaign. However, a Champion may not be deleted if any Champion campaign they created are active. To delete a Champion, first end all related Champion campaigns, and then follow the standard steps to delete a registrant.
Reports
There are reports available to view and manage Champions and Champion campaigns. These reports, accessible from within a Champion parent campaign, are:
Counts and Totals Including Champion Campaigns

Displays the same metrics as the standard Counts and Totals report, but the numbers include amounts raised in all associated Champion campaigns.

Counts and Totals Including Champion Campaigns - ALL CAMPAIGNS

Displays Counts and Totals for all campaigns in the platform, modified as above to include amounts raised in Champion campaigns. Additionally, Champion campaigns themselves are identified as such, with reference to their parent campaign. This can be helpful in determining which Champion campaigns belong to which parent.

Champions

Displays all Champion fundraisers within the campaign along with fundraising information associated with their Champion activities.

Champions - ALL CAMPAIGNS

Displays the same as the standard report above, but includes Champions from the entire platform.