Nonprofits can allow supporters to create individual fundraising pages (tribute pages) to honor or memorialize the memory of loved ones. Memorial pages include space for donors to share memories and offer condolences, and provide a meaningful emotional connection between donors, fundraisers, and your organization that makes a lasting impact.
Memorial fundraising is a powerful way for individuals to make an impact by sharing a cause that mattered to someone who matters to them. Tribute fundraisers are personal avenues through which donors can express their condolences and support. In addition to facilitating donations, each memorial page offers the space for donors to share memories. Memorial pages forge meaningful connections to your organization and are an inclusive and empowering method to turn the pain of losing a loved one into a force for good.
Memorial Pages are a specific example of custom, "Do-It-Yourself"-style campaigns that supporters can independently set up. Through a "Start Your Own Fundraiser" portal or button, it's easy to allow your fundraisers to designate their page as a tribute in honor of a loved one. With the Memorial Page template, organizers can share their own stories and the stories of those they have lost. They can upload photos and videos to create an even more personal effect, and keep friends and relatives informed of the impact they've made with Neon Fundraise's email tool.
We've worked with our customers to develop a template and layout that is respectful to fundraisers and donors as well as to the person or persons being paid homage. The differences with Memorial pages are listed below:
General fundraising pages list the creators name under the title. Memorial campaigns contain the Honoree or Tributee's name (found in the title) AND the individual who created the page. The page will state "Created By" before the creator's name.

Progress Widget does not contain a goal but simply reflects that total amount that has been donated. Another option is to remove the Progress Widget completely.
Donation amounts are removed from the Recent Donations widget so only the name and message are listed.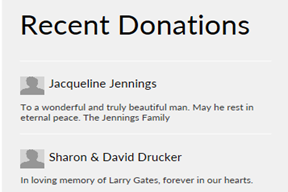 "Comments" section is renamed "Guest Book"
These pages have many of the features of other campaign types, providing the fundraiser the tools they need to reach out to friends, family and coworkers to ask for donations in honor of the deceased. Donors can also opt-in to have their donation recur every month.
Here are some of the ways a memorial campaign is different than standard campaigns:
The registrant includes the name of the tributee during registration. This name is then used as the title of the memorial page.
"Date of birth" and "Date of passing" fields can also be used and then displayed on the associated memorial card.
Goal and donation amounts are omitted on the memorial page.
Tribute Donations on Personal Fundraising Pages
Nonprofits also have the option of enabling "tribute fields" along with donations for event-based and DIY campaigns. Enabling this feature can not only increase donations, but also makes the donation even more personal.
Regardless of what type of campaign a nonprofit is looking to run, Neon Fundraise offers a sophisticated way to integrate tribute fundraising into the overall giving strategy.
Contact Neon Fundraise to Setup a Memorial Campaign or enable Tribute Fields.