Neon Fundraise allows administrators to add donations in bulk, by uploading a CSV file to the admin panel. To do so, follow these steps:
Log into the Admin at admin.rallybound.com
Navigate to the campaign on which to upload your donations
Click the "Transactions" tab
Click "Donations" in the left sidebar
Click "Upload CSV" at the top of the window
Click "Download CSV Sample Template" in the pop up window
After the Sample Template downloads, open it in your spreadsheet program, and add new donations (with their information) to the spreadsheet. Important: When editing/adding to the template, do not modify the first row.
Once you've finished entering your data into the spreadsheet, save it as a CSV file
Back in the Admin > "Upload CSV" pop up window, click "Browse", and attach the CSV file you just saved. Then click "Upload".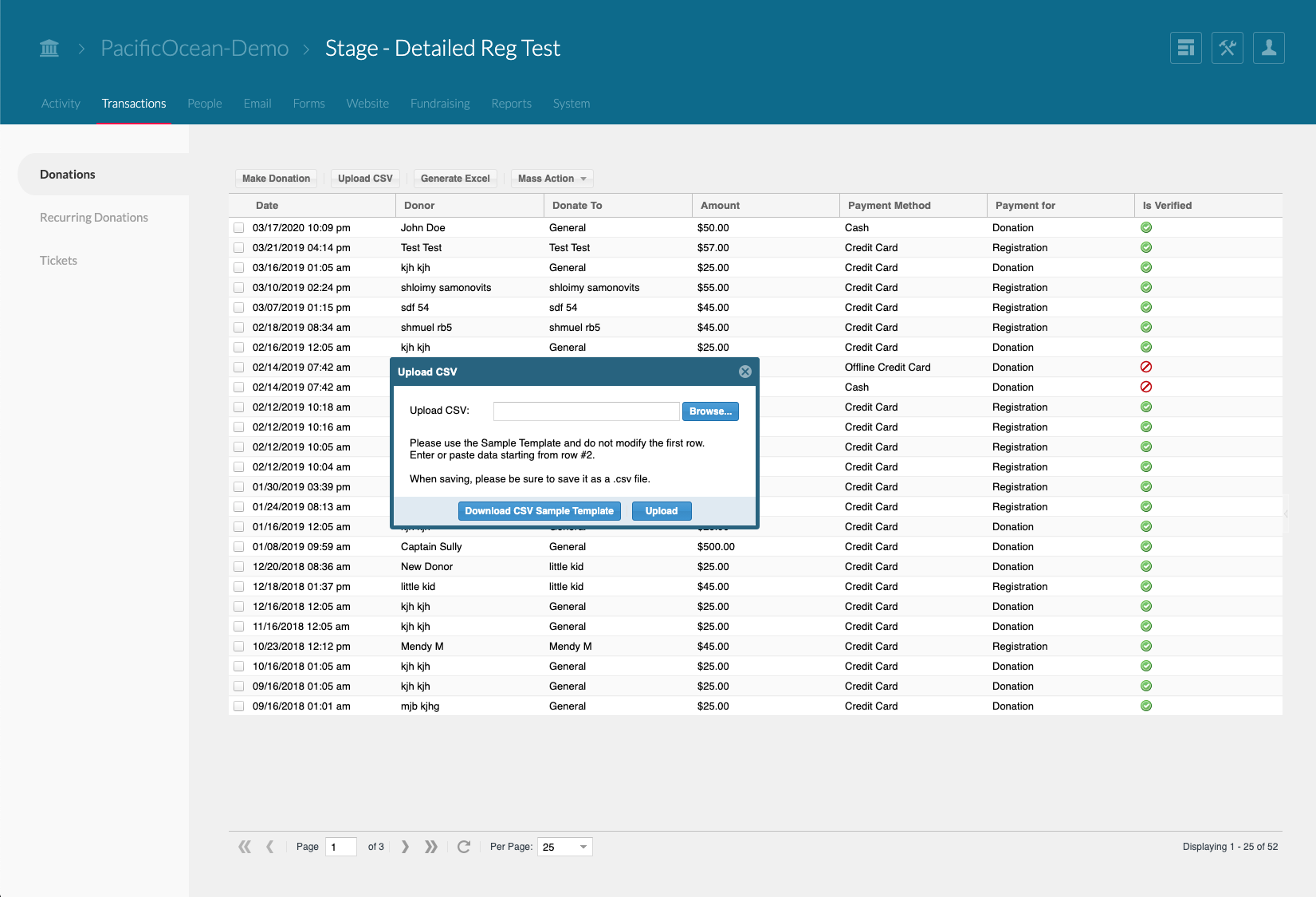 Donation CSV Template Structure
Donor Information

Donor ID (optional)

First Name

Last Name

Email

Donor Name To Display On Site (donor name override)

Address1

Address2

City

State

Zip

Country

Phone

Admin Comment (for donor) - admin notes on donor record

Donation Date

Donation Amount

Donation Type (General, Team or Member donation)

Donation to Member ID (ID of member)

Donation to Team ID (ID of team)

Donation to Goal ID (goal ID if known)

Payment Information

Payment Type (Check Cash OfflineCreditCard Wire or InKind)

Transaction ID (for OfflineCreditCard and Wire payments)

Check Number

Donation Settings

Donation Message (to display on site)

Donation Is Verified (true or false)

Donor's Name Is Anonymous (true or false)

Donation Amount Is Anonymous (true or false)

Donation Is Corporate Sponsorship (true or false)

Donation Is Pledge (true or false)

Admin Comment (for donation) - admin notes on donation record

Dont Sync (true or false) - sync to Salesforce
Any other custom field on donation