Contents

Introduction
How can I enable this integration?
Setting up
User permissions - who can use the integration?
Getting started
Other settings
---
Introduction
The integration between Neon CRM and Constant Contact allows you to use Constant Contact's robust email marketing features and see the results in Neon CRM. It also allows you to easily synchronize contacts from one service to the other. Sign up for a free 60 day Constant Contact trial here to test out this integration.

Bi-directional list segmentation and management
Pull lists into Neon CRM to engage new supporters, or create segmented lists in Neon CRM and send them to Constant Contact. Create custom rules for de-duplication, list unsubscribes, and merge tags to ensure your messaging is always accurate.

Hundreds of easy-to-use templates
With over 400 "polished" templates to choose from, you can easily create a professional-looking email in minutes — or use the easy drag-and-drop editor to build your own design.

Access to email marketing results
Campaign metrics are pulled into Neon CRM, including a dedicated Mission Control Dashboard widget. You'll also be able to see campaign data on individual account pages for more detailed engagement stats.

Streamlined and simple connection
To start using the integration, you'll simply enter your login information through a portal connected to Neon CRM.

How can I enable this integration?
All Neon CRMsystems should already include an option to use the Constant Contact integration. System Administrators and users with the appropriate permissions will automatically see a Constant Contact menu option in the main navigation bar: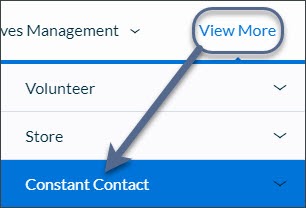 They can also see it as an option on the Global Settings page under Third-Party Integrations: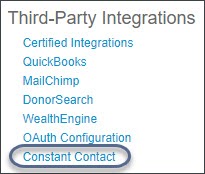 If you are a System Administrator and would like to use Constant Contact with Neon CRM, but do not see the integration in your system, please contact our Client Account Specialist Team at clientaccountspecialist@neonone.com.
---
Setting up
Once the integration has been enabled in your system, you can complete the setup either from the Third-Party Integrations list under Global Settings cog > Global Settings . . .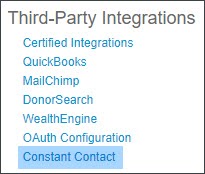 ...or from the Constant Contact section that will appear in your main navigation menu.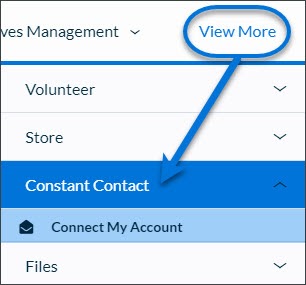 Either way, you will be taken to this page to connect to your Constant Contact account.





Clicking the "Connect to Constant Contact" button will bring up a separate window prompting you to log in to your Constant Contact account. Upon successful login, you will be asked to allow Neon CRM or access and/or update this account. Click Allow.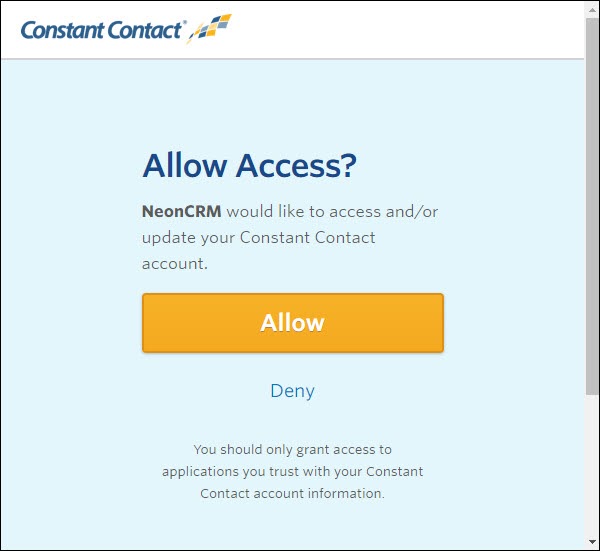 Your setup screen in Neon CRM will confirm the connected account, its owner, and the associated email address. You can also disconnect the integration from this page.





You will now see a new set of options in the navigation menu.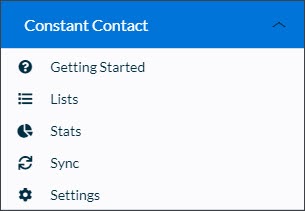 ---
User permissions - who can use the integration?
By default, only users with System Administrator permissions can view the Constant Contact section of the navigation menu, or use the integration. However, you can assign permissions to any custom user group from the Advanced Settings page.



---
Getting started
The first option in the Constant Contact section of your Neon CRM navigation menu is called "Getting Started".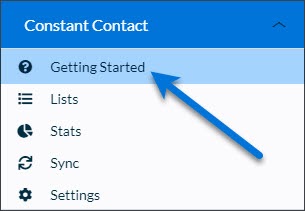 This page answers the most basic questions you'll have about using the integration:

1. How do I send an email to individuals from my Neon CRM system?





2. How do I import individuals from Constant Contact into Neon CRM?



---
Other settings
Before you begin working with this integration, there are some other important settings to view and configure. These are:
You can access these by going to Constant Contact > Settings.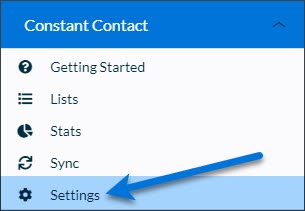 Unsubscribe Settings
The first setting allows you to manage unsubscribe behavior in both Neon CRM and Constant Contact. You can determine what happens in Neon CRM if someone unsubscribes from a Constant Contact email campaign, and also what happens in Constant Contact if someone opts out of emails in Neon CRM.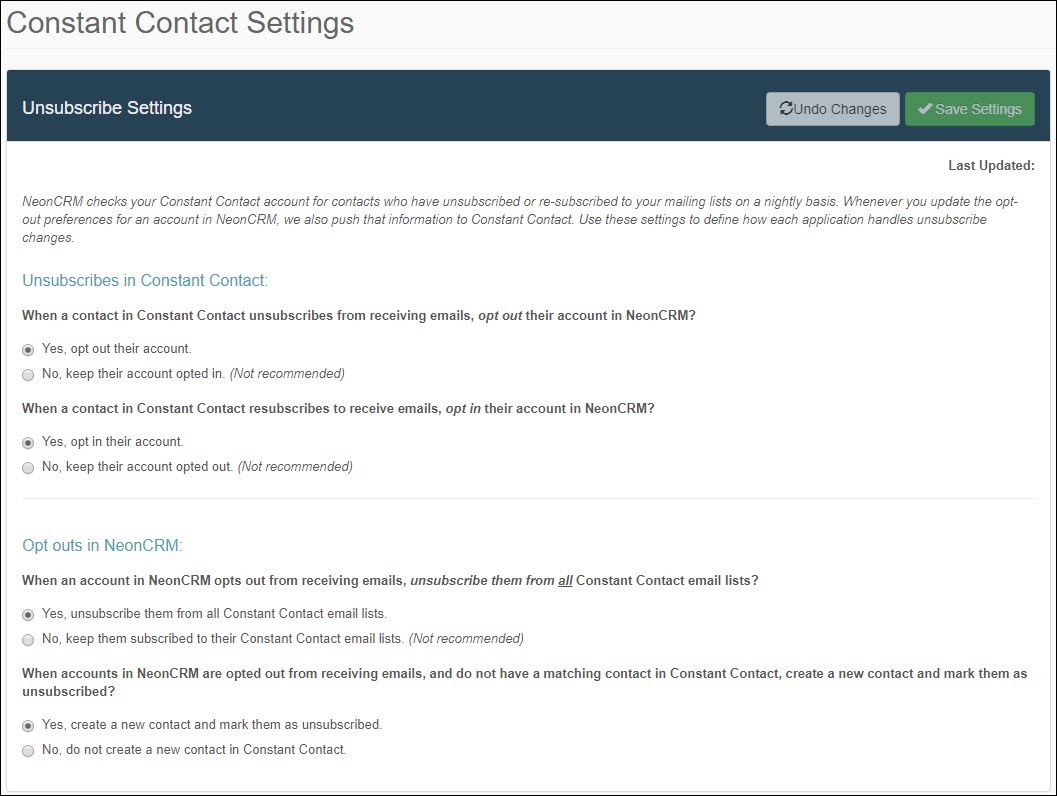 By default, unsubscribing from Constant Contact will update the Email Opt-Out field in Neon CRM to Yes, and vice versa.

If you leave "When a contact in Constant Contact unsubscribes from receiving emails, opt out their account in Neon CRM?" set to Yes, you will also have the option to specify whether the Email Opt Out status should be removed from the Neon CRM account when the contact resubscribes in Constant Contact.

Import Settings
When you import contacts from Constant Contact into Neon CRM, the Import feature will search for existing Individual accounts in Neon CRM by matching email addresses. If a match is found, the existing Neon CRM account will be linked to the Constant Contact record. Subscription and campaign data for that contact will be tracked on the existing account.

Note: The Import will only search for Individual accounts in Neon CRM. Constant Contact records cannot be linked to Company accounts.

If more than one Individual account exists with the same email address, the Import will try to match by name + email.

If there is more than one match by name + email, the Import will follow the rule you specify in the Import Settings shown below to determine whether the contact is imported to a new account, linked to one of the matching accounts at random, or ignored.





You can also specify which lists you'd like to import contacts from. By default, all lists are selected, but you can modify these choices if you only need to bring specific groups into Neon CRM.

Push Settings
You can also push data from Neon CRM accounts to Constant Contact. The Push Settings allow you to set rules for pushing data to both standard and custom Constant Contact fields.