Learn how to Integrate MailChimp in this step-by-step guide. This help guide will cover how to integrate Mailchimp and use the systems together.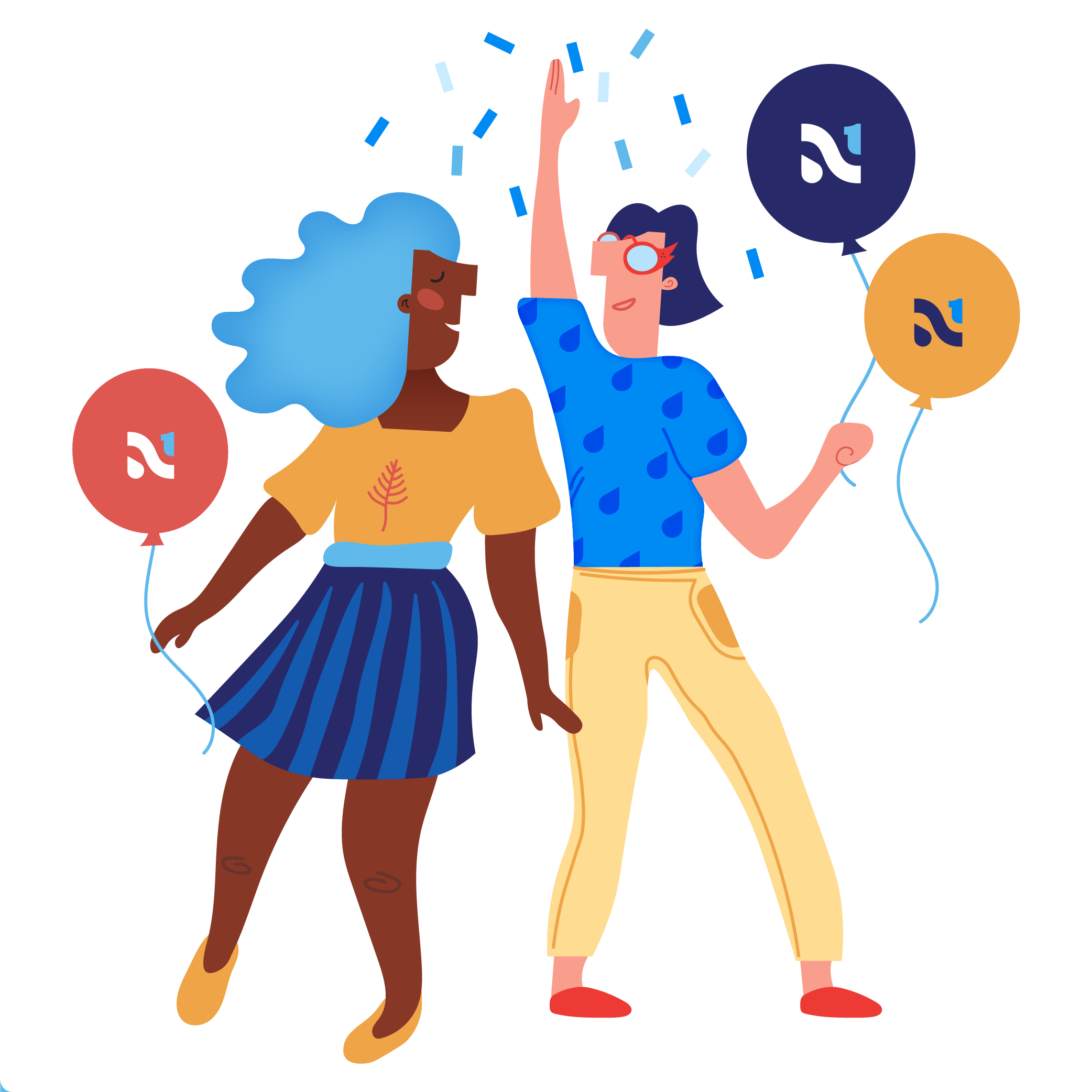 Recommended Reading Before You Start
Contents
Why use the integration with Mailchimp
How to establish the integration
How to use the systems together for the first time
How to use the systems together subsequently
Why use the integration with Mailchimp
Mailchimp is a third-party service that allows you to design great-looking email newsletters and share them on social networks. Establish this integration so that you can, with the push of a button, send Neon audiences to Mailchimp. You'll also see Mailchimp stats in Neon. Sweet!
Mailchimp offers four pricing plans (including a free option) based upon the number of emails plan to send and the number of people that you plan to send to. Any Mailchimp fees are in addition to your Neon CRM fees, but use of the integration is free of charge. If you do not already have a Mailchimp account, click here to create one.
Some things to keep in mind:
The Mailchimp integration does not replace Neon CRM's Email Campaigns. With the integration, you can use Neon CRM and/or Mailchimp to send these emails.
The Mailchimp integration is strictly for campaign (mass) emails. System Emails must still be sent via Neon CRM.
How to establish the integration
Generate an API Key in Mailchimp.
1. Log into your Mailchimp account. In the upper-right corner, click on your name, then Account.
2. Click on your name to find Account Settings. In the Extras tab in the navigation menu, find the link labeled API Keys.
3. Under Your API keys, click Create A Key. A key will be generated in the API Key column. Copy the API Key
Navigate to Neon CRM
4. In Neon CRM, navigate to Settings Cog and select Global Settings.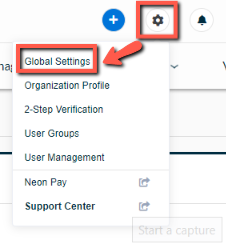 5. Under Third-Party Integrations, select Mailchimp.

6. Paste the Key in MailChimp API Key. Select Test Mailchimp Connection to ensure the connection has been set up correctly.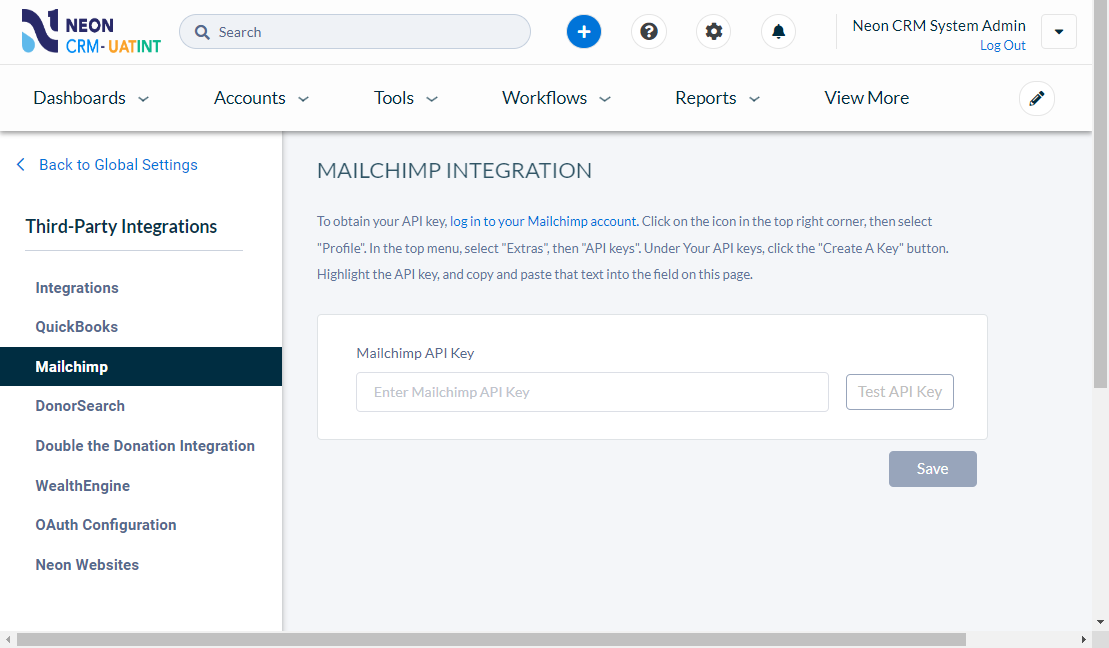 7. If you see "Everything's Chimpy" you have set the foundation to begin using the two systems together.
How to use the systems together for the first time
Let's say you have one email list in Mailchimp now. It is recommended that you collect the recipients in Neon CRM and write/send the email in Mailchimp. To accomplish this, complete the following:
1. Export your list from Mailchimp.
2. Archive the contacts from the list. Do not delete the emails or the list itself. This is very important.
3. Create a Neon email audience.
4. Upload the list to the Neon Email Audience.
To allow future list subscribers to join this audience:
Search your database for the people who should be on here. This will dynamically update.
If you're going to allow new people to sign up, create a published email audience.
5. Click Push to Mailchimp.
6. Select the Mailchimp list you'd like to push these recipients to and click Continue.
7. Open up Mailchimp. See the new recipients in the old list.
8. Create & send the email from Mailchimp.
9. See the results in the MailChimp Email Statistics Widget and on the recipients' accounts.
How to use the systems together subsequently
If you successfully set up your Neon CRM email audiences to automatically contain new subscribers, sending your next email to this mode is easy.
1. In Mailchimp, archive all contacts from the list you want to send to (you don't have to do anything to the list itself.)
2. In Neon CRM, navigate to the relevant email audience.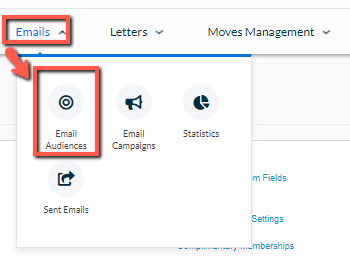 3. Select Push to Mailchimp. This will add back any archived emails that still fit your Neon CRM audience criteria, and add any new emails that have come into your database since the last push.
4. Open up Mailchimp. Create & send the email from Mailchimp.
Advanced Scenarios and FAQ's
Why is keeping the Mailchimp list so important? What's up with unsubscribes?
Mailchimp and Neon CRM track unsubscribes separately. For Mailchimp, a constituent unsubscribes from a specific list, while in Neon, a constituent opts out from all campaign emails. Due to this difference in logic, Mailchimp unsubscribes are not passed back or marked on Neon CRM accounts, however, they will not receive any subsequent Mailchimp emails from that unsubscribed Mailchimp list.
When you resend an email audience from Neon to Mailchimp, use its corresponding Mailchimp list each time. Any new email addresses in your email audience will be added, Mailchimp will automatically de-duplicate your list to ensure that duplicates do not occur, and anyone who has unsubscribed from that MailChimp list will remain unsubscribed.
If someone opts out of a list in Mailchimp and you believe they would not like to receive any further blasts from you (even from within Neon), you can download Mailchimp's unsubscribes list and update those accounts in Neon as unsubscribed. For updating account in Neon CRM use the Account Batch Update.
Large Lists
Encountering errors? System(s) timing out? Your list may be too long.
From our experience, do not push email audiences larger than 5,000 rows to Mailchimp. Larger audiences will take a long time to transfer between systems, and may encounter errors.
If you need to send a large list, try breaking it into smaller parts for transfer.
Map Email Data Columns
When pushing a list to Mailchimp, after clicking Next, you will be presented with a page where you must map your fields. Mapping is how you tell Neon CRM to arrange your data on the Mailchimp list.
Use the drop-down menus to select the destinations for your data. If you are moving a field that exists in Neon CRM, but does not exist in Mailchimp, you can select Create this field in Mailchimp. Doing this creates a new field in your Mailchimp list and adds in the data you have selected.
Q. The Push to Mailchimp button is disabled with the message "This audience includes a source combination that is unable to be sent to Mailchimp." What does this mean?
Due to limitations of the data sync, Neon CRM is not able to push audiences to Mailchimp that have multiple "Live Report" sources where the report type is not the Email Audience Report.

In other words, audiences can be pushed to Mailchimp if it meets one of the following conditions:
The audience contains only one report source where the source is a "Live Report" linked to a report type that is not the Email Audience Report.
The audience contains multiple sources, but no sources linked to a "Live Report" that is not the Email Audience Report.
Q. I do not see a Mailchimp Email that I sent to a constituent in that person's Mailchimp Email Communication History. Why is that?
Mailchimp Statistics typically take a day to appear in Neon. After that period has elapsed, however, all emails sent from Mailchimp to Neon constituents should appear in their Sent Emails > External Emails.
Q. I see a Mailchimp Campaign Email that I sent to a constituent in that person's Mailchimp Email Communication History, but I don't see any opens or clicks even though they appear in the reports I pull from Mailchimp. Why is that?
Mailchimp Statistics will only be pulled into Neon for the first 3 days after the campaign was sent. If a recipient opens or clicks on your Mailchimp email after 3 days, it will not be recorded in Neon. For a complete view of all activity related to your campaign, run the reports available from your Mailchimp account.
Q. Can I use segmented Mailchimp lists with Neon CRM?
Neon CRM does not support segmented Mailchimp lists.
Recommended Related Articles