Windfall is Neon CRM's primary wealth and prospect integration partner. With the Windfall integration, Neon CRM can view, segment, and act on Windfall wealth screening data on any constituent account. The Windfall integration automatically scans all accounts in Neon CRM every 2 weeks with no configuration required. Users can also set up reports and workflows based on criteria from Windfall's screening data.

Note: You must have Windfall included in your Neon CRM subscription to connect this integration. For more information or to sign up, please contact
sales@neonone.com.
sales@neonone.com
.
How to connect Windfall to Neon CRM
Go to Settings cog > Global Settings > Third-Party Integrations > Certified Integrations

Find Windfall under Wealth and Prospect Research

Click Connect


This will open a Windfall page. Click Log in with Neon CRM

Neon CRM will ask you to allow Windfall to access accounts and reporting. Click Connect to Windfall

And you're done! Windfall will start syncing and will continue syncing every 2 weeks.


How to view a constituent's Windfall data
With your Windfall integration connected, Windfall will scan your constituent accounts every 2 weeks and append wealth screening data in the Windfall section of an account.

The Windfall section includes an overview of the constituent's estimated net worth, causes they support, and other factors concerning their assets.
Search for a constituent record using the provided search bar
Click the constituent record to view their record in Neon CRM
Along the left, locate the Windfall account section
The Windfall data for this constituent will load.
Filtering Neon CRM Reports using Windfall data
With your Windfall integration connected, Windfall data may be used to filter report results and target specific account records. For example, you may want to segment an email or mailing list by net worth or philanthropic causes. This is easily done using the Windfall Data integration.
🛈 For more information about
Email Audiences
, please
click here
🛈 For more information about custom
Reports
, please
click here


When adding a criterion to a Report or Email Audience, look for the Windfall section where you will find all the Windfall fields that can be included as filters in your report or audience.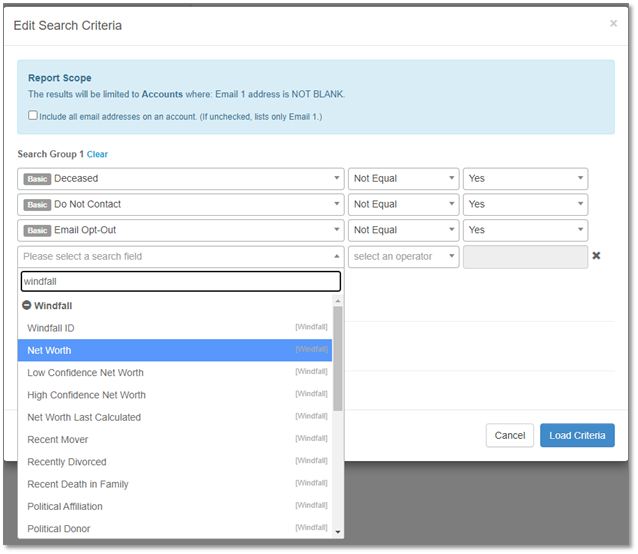 For example: This criterion will return accounts with an average net worth of more than $500,000, according to Windfall Data.


Neon CRM Workflows using the Windfall data trigger
Windfall Data will update every 2 weeks after initially connecting. With Neon CRM Workflows, you can create custom workflows to kick off when Windfall Data has updated a constituent's record.

You'll find the Windfall Wealth Screening Updated trigger when creating or editing a Workflow
🛈 For more information about creating custom workflows, please
click here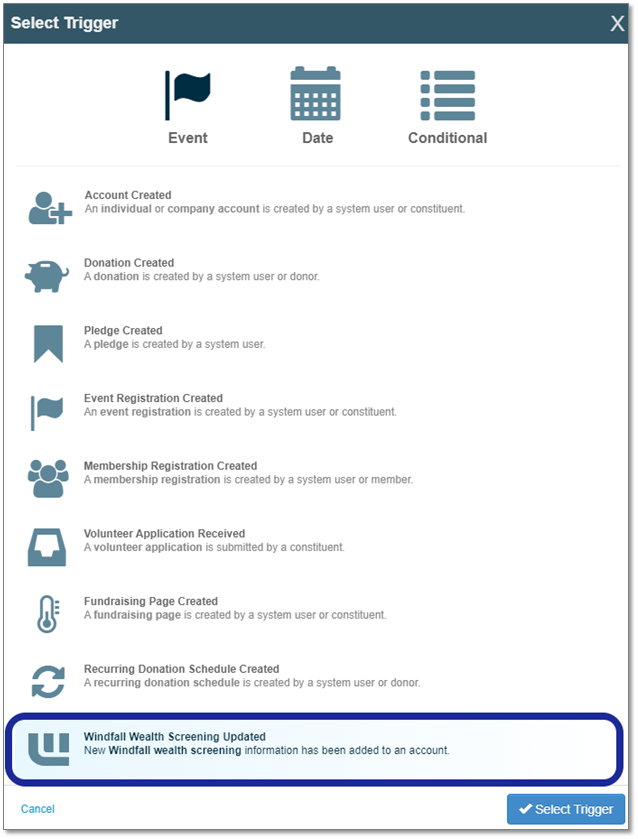 Note: Windfall only has information on households that have a net worth of over $1 million. If it is less than $1 million, they will not appear as synced.