Contents
---
Introduction
If you don't set a custom exit page for standard forms, then Neon will display the default exit message, "Thank You!", to anyone that makes a successful online payment. For donation and event registration pages, there is also an option to display links to share the form on social media.
NeonCRM supports customized exit pages for Constituent & Public versions of your Standard forms as well as for Custom Forms. You can create custom web pages in NeonCRM to replace the default exit page linked to your standard donation, campaign, event registration, membership, and email newsletter subscription forms.
---
Social Media Buttons on the Default Message
You can embellish the Thank You message of the default exit page by prompting your donors and event registrants to share the donation form or event with their friends on social media. This will offer links to various social platforms on which they can recruit their friends by sharing your form.
Enable social media buttons for donation forms
Navigate to Forms & Pages > Links & Pages and scroll to your standard donation form. On the right, you'll see an option to turn on the Social Media Prompt. Click Change to enable or disable the prompt.

It will look like this on your exit page: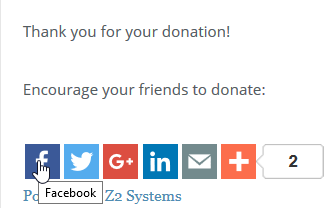 Enable social media buttons for event registration forms
Social media links on event exit pages share a setting with Event Details.
Navigate to the Global Settings cog Global Settings Events Display Settings. Scroll down the page to find Event Detail Layout.
Choose No for the setting Would you like to hide auto-generated social networking links.

It will look like this: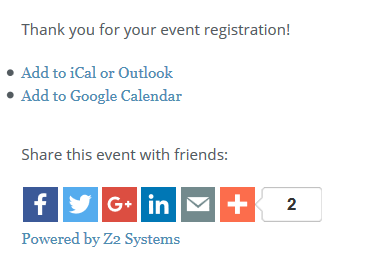 ---
Exit Pages for Standard Forms
Forms & Pages > Links & Pages contains a list of all your online forms and allows you to setup custom exit pages. While you can't edit the default exit message, you can create your own custom exit pages.
To get started, navigate here: Forms & Pages > Links & Pages.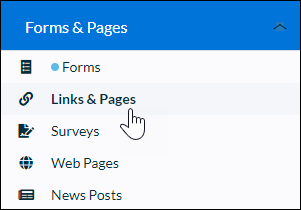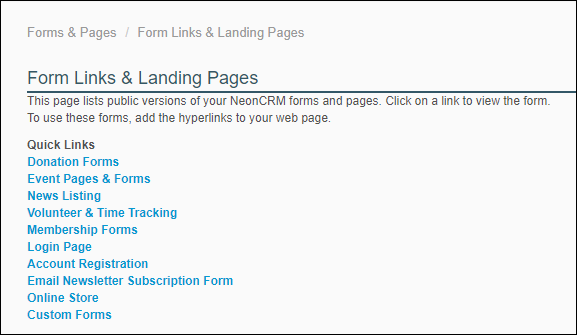 You can specify custom Exit Pages for Public and Constituent versions of your Standard Forms (i.e., Standard Donation Form, Campaign Donation Forms, Event Registration Forms, Membership Forms, and Email Subscription Forms).
Click Edit next to the form to set the desired exit page. You can choose to make the public and constituent exit pages the same or you can enter different exit pages for each version.

Clicking Edit will open a pop-up window (make sure your web browser is not setup to block pop-ups) where you can enter the desired link as the Exit URL, as shown in the images below.
Editing a Public Exit Page
Enter the Exit URL you want to use as the exit page. Public exit pages have an additional option to Set this as the Constituent Exit Page. This option is selected by default. Deselect the check-box if you do not want to use this same URL for the constituent version of the form. Additionally, you can select if you want to pass along the form's fields as URL parameters to your exit URL.

Editing a Constituent Exit Page
The constituent exit page has an additional option to Select a NEON Page. You can enter the Exit URL or you can select from one of your Front End Dropdown Menu options to use as the constituent exit page.

Only the dropdown menu options that you've made available to logged in users will be available to select as the constituent exit page. These are the options that logged in constituents will see under the What would you like to do? drop down menu in the Constituent Login Portal.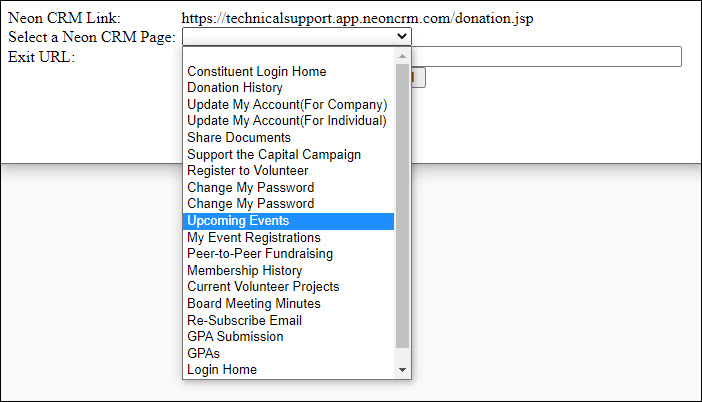 ---
Exit Pages for Survey Forms
You can also use your own exit page for a Survey Form. This is configured in the basic settings for each custom form you create, as shown below.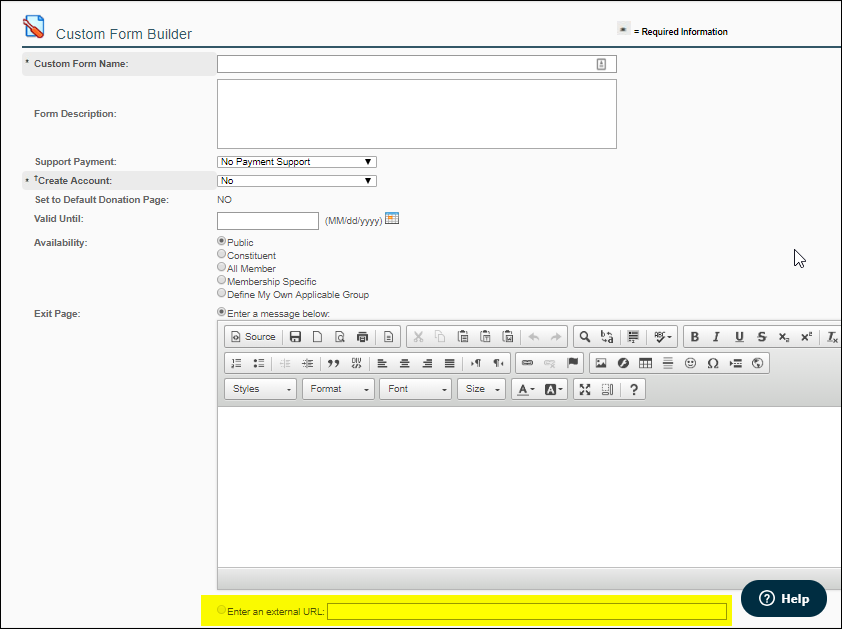 Note: If your form is set up to accept donations or membership transactions, then Neon will use the default exit message: Thank You! An acknowledgement email will be sent to you shortly.
Exit Pages for new Account, Donation, and Membership Forms
For new account/donation and membership forms, you can either customize the exit page message or set your own URL as the exit page.