Contents
---
Allowing Photos in the Membership Directory
You can allow your constituents to upload photos for inclusion in your Membership Directory. To turn this feature on, go to Global Settings cog Global Settings Memberships Member Directory Settings. When creating a new membership directory, for option #4, check off the Display approved photos of members option.
Uploading Photos
Your constituents have the ability to upload their photo in the constituent login portal. This photo will be added for you to view a system user on their Neon CRM account. Your constituent can also approve it for use in your membership directory.
To upload a photo, constituents can log in and from the drop-down navigation, select Update My Profile. Note that this is the default name for this page; you have the ability to change this option in Global Settings cog Global Settings Constituent Login Portal Dropdown Navigation Options. A full guide on this menu is available here.
On this page, select the Upload a New Photo option in the upper-right corner.
A new window will open to allow your constituent to upload a photo from their computer. The file should be .jpg or .gif.
When they click Submit, their photo will be added to their profile.
Requiring Photo Approval
If you prefer, you can require that all photos uploaded by your constituents for inclusion in the membership directory be approved before they display. To turn on this setting, go to Global Settings cog Global Settings Constituent Login Portal Constituent Portal Dashboard.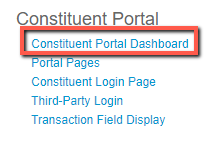 To require photo approval, select Yes and click Submit.

Approving Photos
With the Photo Upload Approval setting turned on, your constituents will see a To Be Approved message when they upload a photo as outlined above.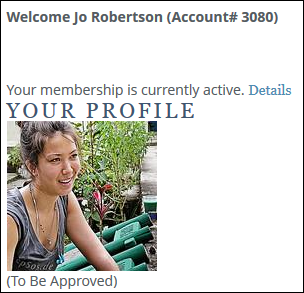 To approve photos, you can use the "Photos Pending Approval" Dashboard Widget. To view all images that need approval, click View All Photos.

This link takes you to a list of photos that need to be approved. Click the account ID to view the photo.

Click Approve to approve the photo.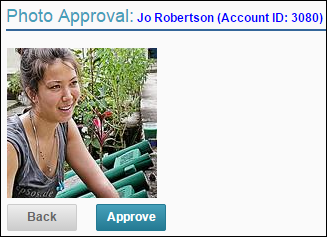 Now that the photo is approved, it will appear under the Detail section of their listing on the Member Directory as well as that constituent's Neon CRM account page.