---
Introduction
The membership directory displays member data in a searchable directory format. This directory can be made available to logged-in members or can be visible to the public. You can create as many different directory configurations as you like, and can have as many active as you like.
---
Enabling a Directory
To create a directory configuration, navigate to:
Global Settings cog Global Settings Memberships Member Directory Settings.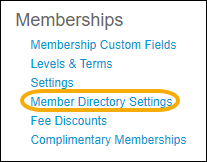 This page will display your current directory configurations. To create a new directory, click New Directory Configuration.

Step 1 - Basic settings for your directory
Name your configuration. This will help you identify it later.
Display deceased members - If enabled, constituents marked as "Deceased" will be included in your directory.
Display approved photos of members
Choose who can access this directory configuration

Logged-in Members Only

only

current members

can view this directory after logging into to Neon CRM's constituent login portal.

Visible to Public

anybody can access this directory.

Which memberships should be included in this directory?

Include all memberships in this directory: All constituents with a current membership will be visible.
Limit this directory to specific memberships: Displays only the members who have one of the selected membership levels. (This limits who is displayed, not who can access the directory.)

First sort field is - This determines the default sort order of your directory, alphabetically, by last name or company name.

Step 2 - Directory Listing Page
Use this page to select which constituent data is displayed on the directory listing page. Drag the fields from the left column into the right column to enable them.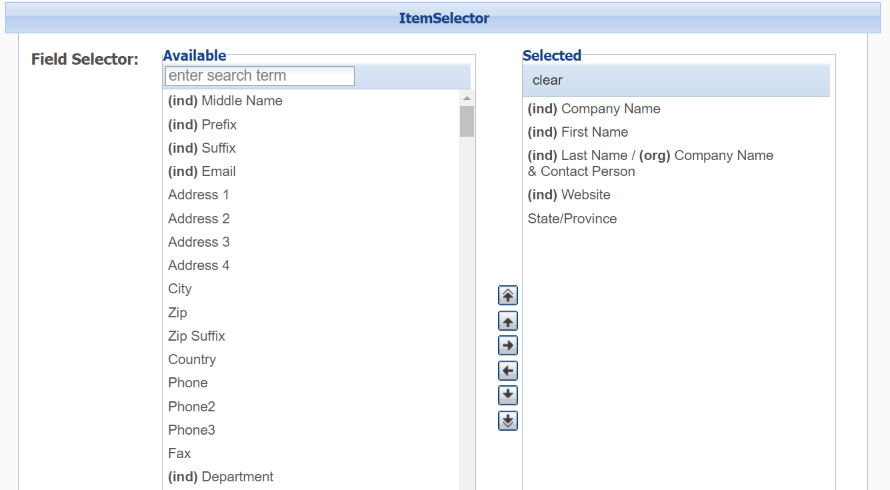 Step 3 - Choose Search Fields
Select the fields you want users to be able to use as search criteria. These are the search fields that display on the membership directory listing page. You can use Account Custom Fields and certain standard fields as search fields for your membership directory.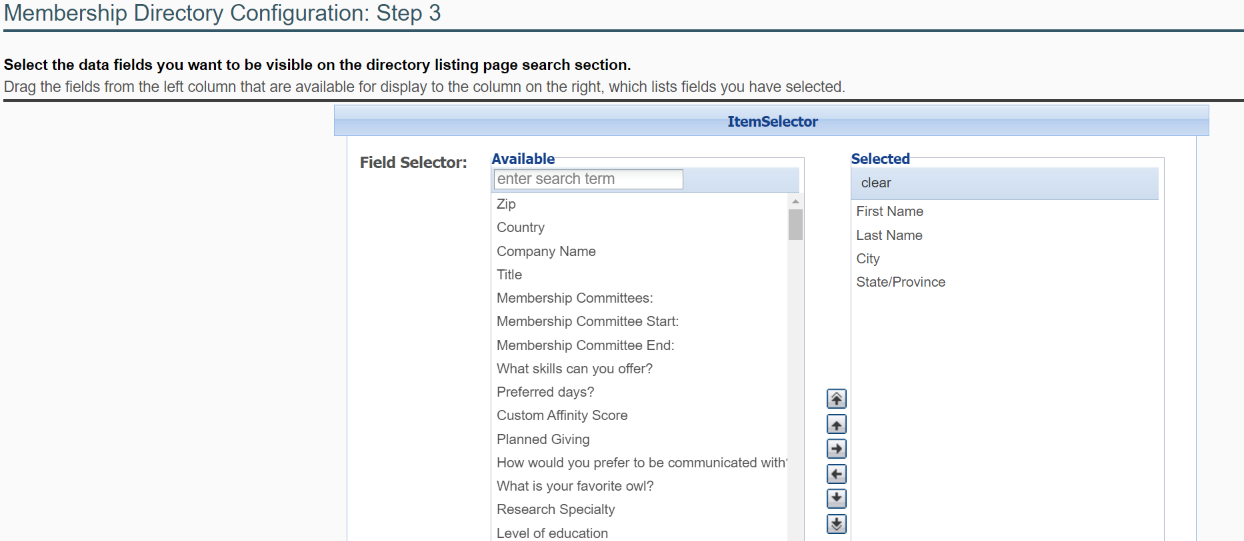 Step 4 - Choose Directory Detail Fields
Select the fields you want to be visible when someone clicks on a constituent in the directory listing. The fields you choose here determines what information is available about each member when viewing their member profile. You can use Account Custom Fields and certain standard fields.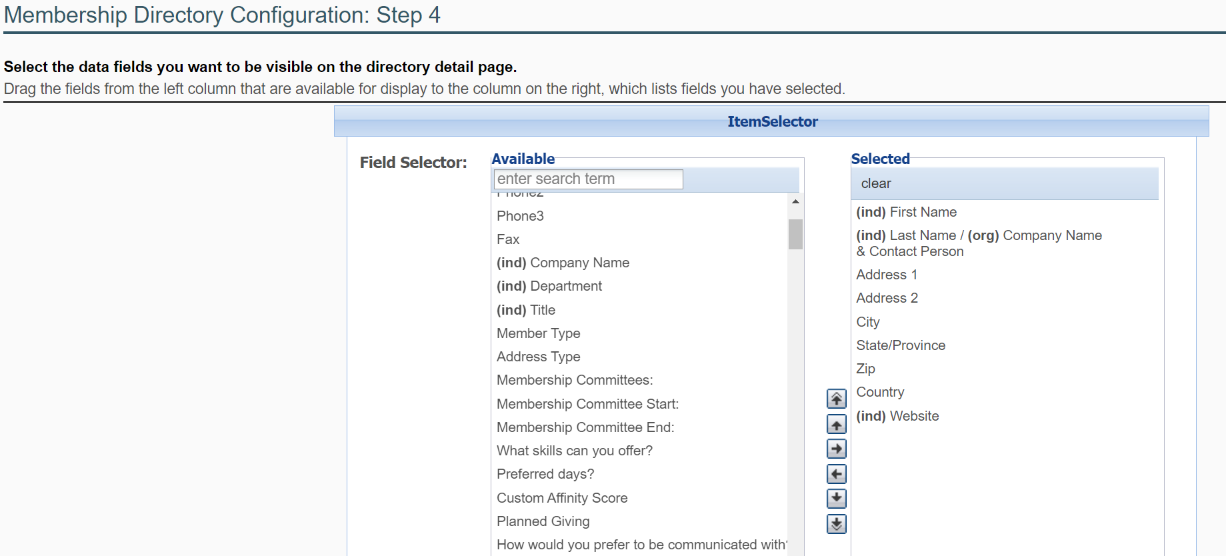 ---
Looking at your Member Directory
Once configured, your directory will be listed on the Directory Configurations list. Click the Check link to view your directory. Use this link to direct others to your directory.

---
Using the Member Directory
At the top of your directory, you will see the Search Field. (configured in Step 3).
Next to the search fields is your directory listing (configured in Step 2).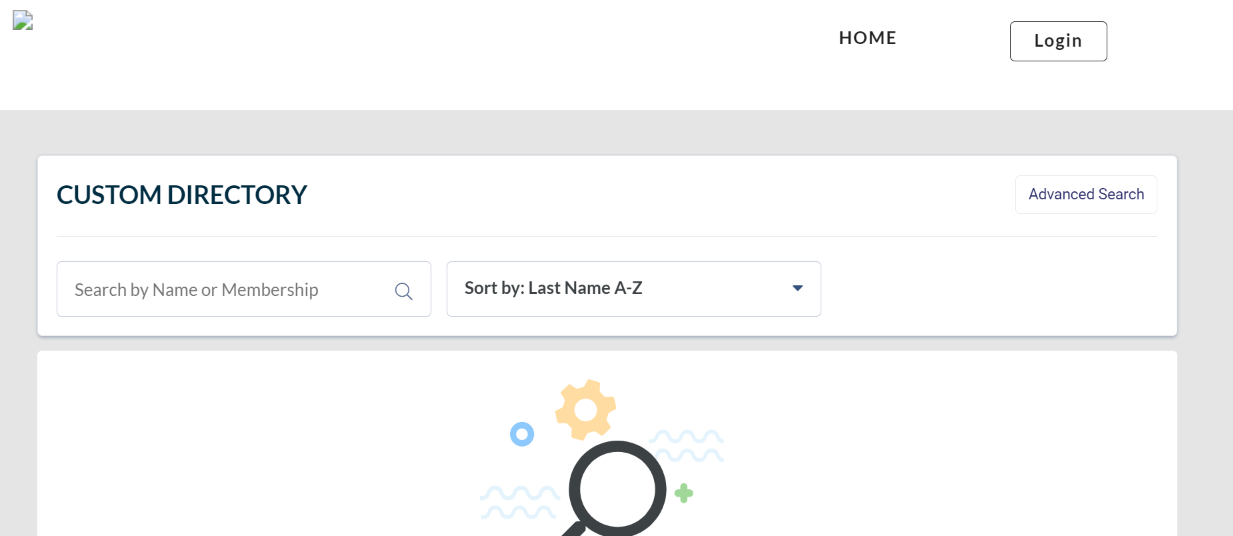 Click on the Details link to view more information about a member.

When you click on a member, you are taken to their detail page (configured in Step 4). Use the blue arrow to return to the directory listing. Use the forward and backward arrows to navigate through the directory listings.