Learn how to modify dynamic dates and date ranges in criteria when running reports. There are steps you must take before completing this process. This help guide will cover how to modify dynamic dates in criteria when running reports.

Recommended Reading Before You Start
Contents
Date Ranges
When searching on a date field (e.g., Account Created Date, Last Donation Date, Event Registration Date, Membership Enrollment Date, etc.) , use the Advanced operator to specify a date range.
Selecting the Advanced operator will allows you to choose multiple operators (e.g., Greater & Equal, Less & Equal, Greater Than, Less Than) which can combine to be start and end dates for your date range.

Example: searching for donations within a specific date range
For example, we want to run a report on all donations made within a date range.
1. Navigate to Reports and Select New Report.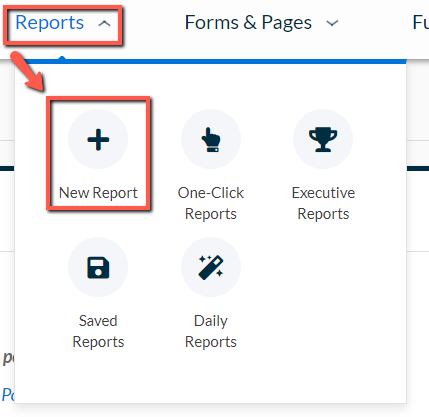 2. Under Donation, select Donation Detail Report.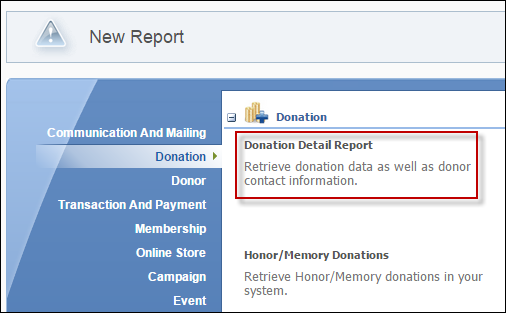 3. Select Edit Criteria.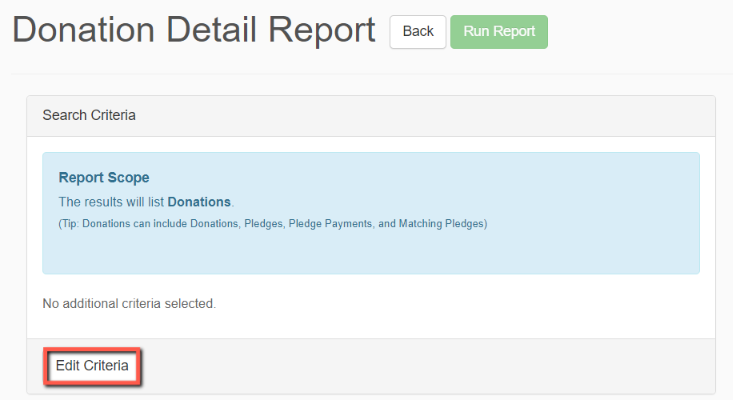 4. On the Search Criteria screen, select the Donation tab. To search for donations made within a certain date range, for the Donation Date criterion, select Advanced... from the operator drop-down menu. A criterion will appear below where you can add your first date.

5. For a date range, you will want two criteria, so click Add Advanced Criterion to add another.

6. In this example we are looking for donations made in the first three months of 2015, so our first date is 01/01/2015 and our last date is 03/31/2015. Note that dates need to be in MM/DD/YYYY format. (Choosing a date from the calendar dropdown will format it this way automatically.)

7. If you have any further criteria, you can add it now, or click Save Changes and then Run Report. If you save this report, the results will update appropriately every time you run the report.

Dynamic Dates
Many criteria include dynamic date options called Custom date choices. These dynamic date options are available with the following search operators: Equal/Not Equal, Less Than/Greater Than, Less & Equal/Greater & Equal.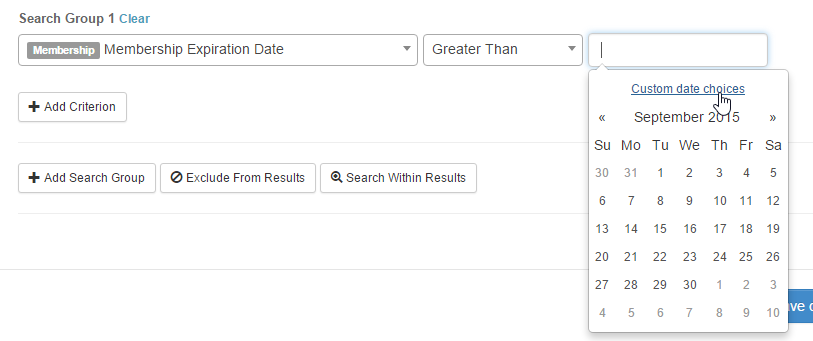 Below is a list of all Custom date options. These update every day, so they will always stay current.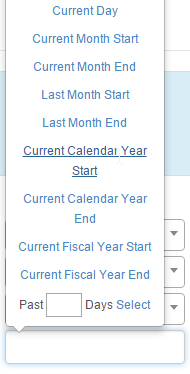 For this example, we will create a report that will show all accounts created within the last 60 days. This report will be run on a regular basis and will need to be created using dynamic dates so that it will always look at the last 60 days regardless of when the report was run.
1. Navigate to Reports and Select New Report.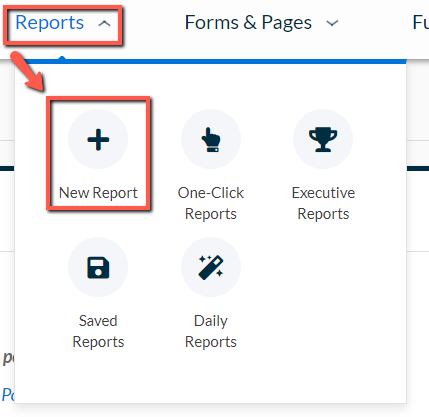 2. Select All Accounts Report.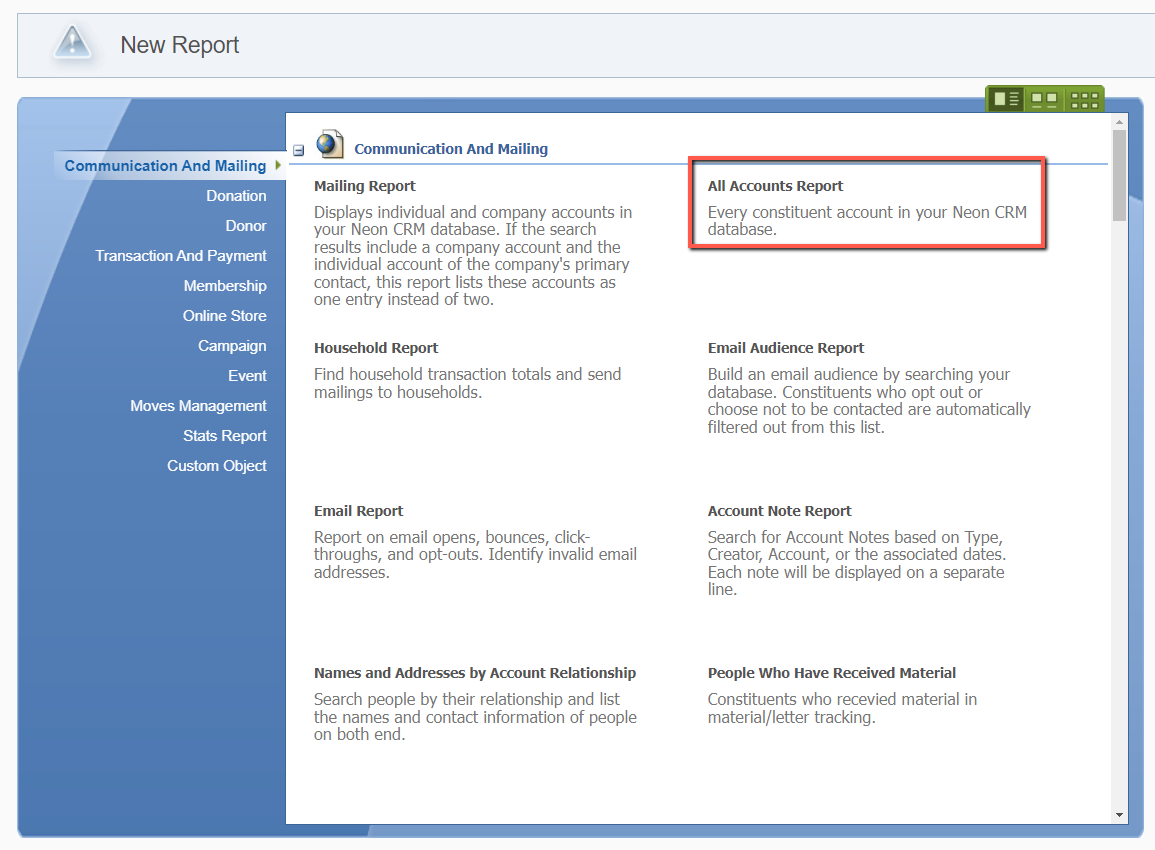 3. Select Edit Criteria.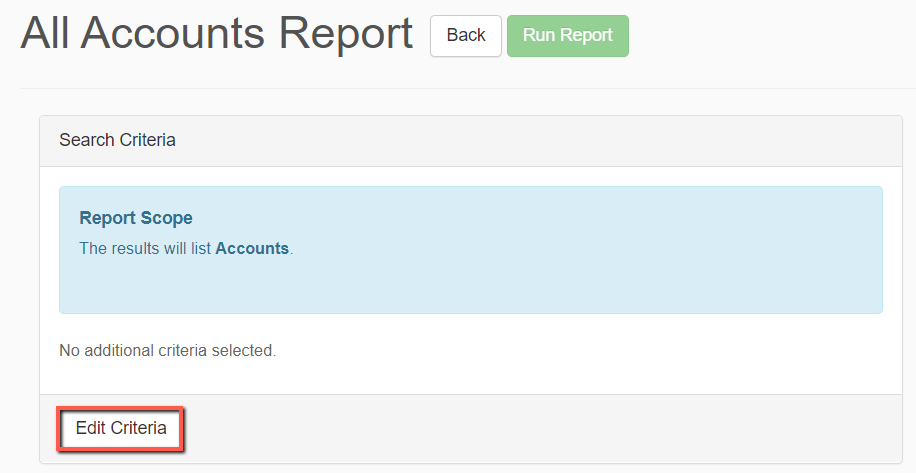 4. For the search field, select Account Created Date in the basic field group. For operator, select Equal. Specify the date by selecting Custom date choice and input Past 60 Days. Select Load Criteria.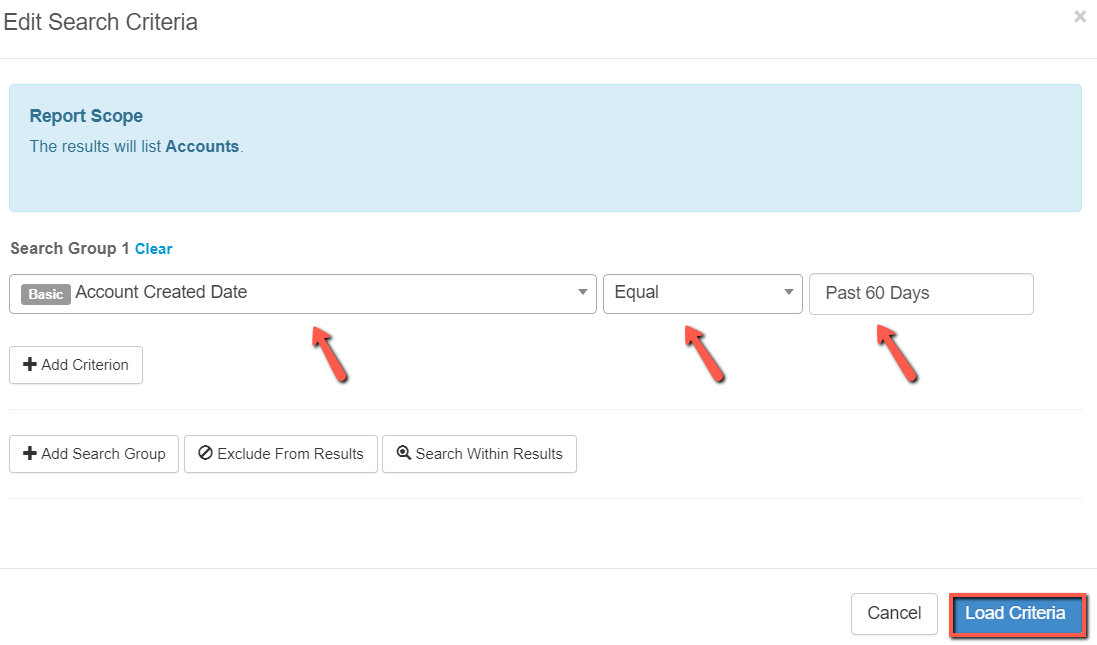 5. Select Run Report.

6. You can now see this report configuration and run it on any future date to view the accounts that were created in the last 60 days.

Recommended Related Articles