Contents
---
Sent Emails List
The Sent Emails page is where you can see a list of all emails sent from NeonCRM. This page is useful for monitoring the status of all email types and for re-sending system emails in bulk.
For example, you might get a call from a constituent that says they did not receive an acknowledgement email after they made a donation today. You can navigate to the sent emails list to see if the Donation Appreciation system email was sent to that person and if it was successful or not.
The sent emails list can be accessed under Emails > Sent Emails.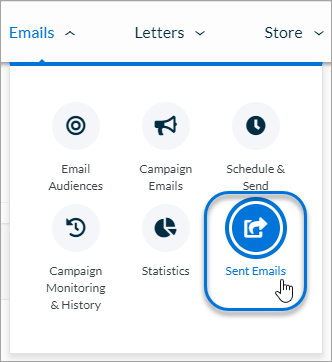 The Sent Emails List can be filtered by selecting one of the criteria at the top and clicking Search.
Search by Sent since, Status, Email Type, Account ID, Recipient name or Email address.

Search on the Declined status to see all bounced emails and those sent to invalid email addresses.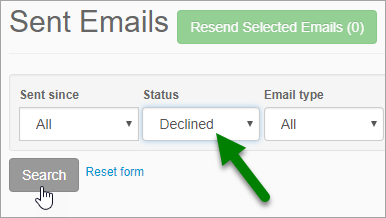 The Note column tells you why it was declined. Hover your mouse over the note to see more details, if available.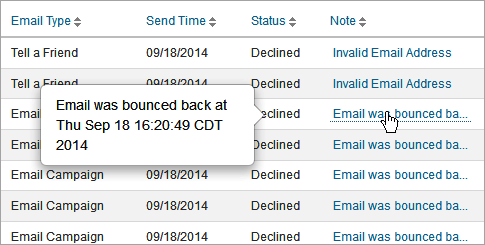 Filtering by Email Type can be help you more easily find a particular System Email and re-send the message to recipients.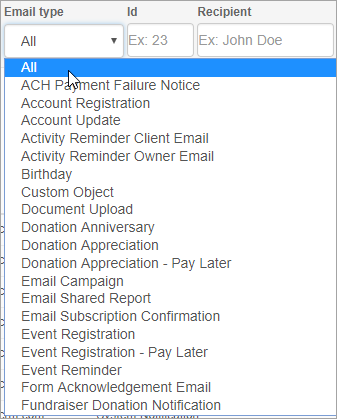 The Recipient column displays the name of the person the email was sent to. If the recipient has a Neon account, then their name will appear as a blue hyperlink. When clicked, you will be taken to their account page.
If the recipient name is not hyperlinked, that means the email was not sent to a Neon account. This can also mean it was a test email sent by a system user.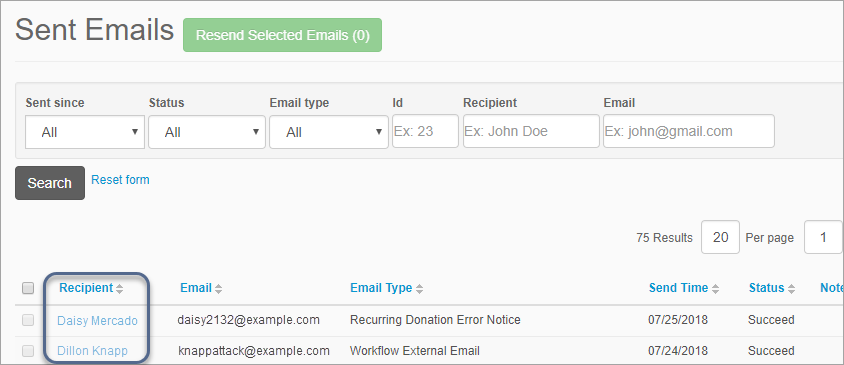 Retry declined emails
You can select recipients and attempt to re-send the message to them by clicking the Resend Selected Emails (#) button. If an email was marked as Succeed, you will not be able to select it to resend.

---
Troubleshooting Several Declined Emails
There are a few things that could cause emails to be marked as Declined, however the most common cause for several emails to bounce is the lack of a proper SPF (Sender Policy Framework) Record on your email domain.
What is an SPF record exactly?
An SPF Record is a simple email-validation system designed to detect email spoofing by providing a mechanism to allow receiving mail exchangers to check that incoming mail from a domain comes from a host authorized by that domain's administrators.
Basically, it helps make it so emails reach your desired recipients successfully.
How do I know if this is the cause for my declined emails?
First off, you would want to run an Email Report on these declined emails in order to see a more detailed message about the bounce. Learn more about Getting the Right Report Results here.
Generally speaking, if all of the declined emails have some form of a 550 error, then more than likely the issue may reside with your email domain. This information is located in the Email Error Note column.
Below is a sample error message:
This is the mail system at host 123456-www1.z2systems.com. I'm sorry to have to inform you that your message could not be delivered to one or more recipients. It's attached below. For further assistance, please send mail to postmaster. If you do so, please include this problem report. You can delete your own text from the attached returned message. The mail system : host aspmx.l.google.com[00.000.000.00] said: 550-5.1.1 The email account that you tried to reach does not exist. Please try 550-5.1.1 double-checking the recipient's email address for typos or 550-5.1.1 unnecessary spaces. Learn more at 550 5.1.1 https://support.google.com/mail/answer/6596m100si24924925oik.31 - gsmtp (in reply to RCPT TO command)
How do I check if I have an SPF Record?
Simple! Run your email domain (i.e. @myorgsemail.com) through MXToolbox. This site provides free, fast and accurate network diagnostic and lookup tools which help diagnose and resolve a wide range of infrastructure issues.
What if it turns out I don't have an SPF Record?
If the scan reveals that your email domain does not have an SPF Record, you will need to do the following:
Submit a Request to NeonCRM's Help Center asking for our Mail Server's IP Addresses
Contact your Email Domain's Administrator with the error message, details from MXToolbox, as well as the IP Addresses
Once your admin has this information, they will be able to set up your SPF Record and you should begin to see more successfully sent emails going forward.
My emails are marked as 'Succeed' but my constituents say they never got our Email Campaign!
This is most likely also due to the fact that there is no SPF Record associated with your email domain. Following the above steps should help resolve this issue as well.
---
Email Communication History for a Specific Account
You can also see what emails were sent to a specific constituent from the Sent Emails section of their Neon account page. Use the drop down menu to filter the list by email type.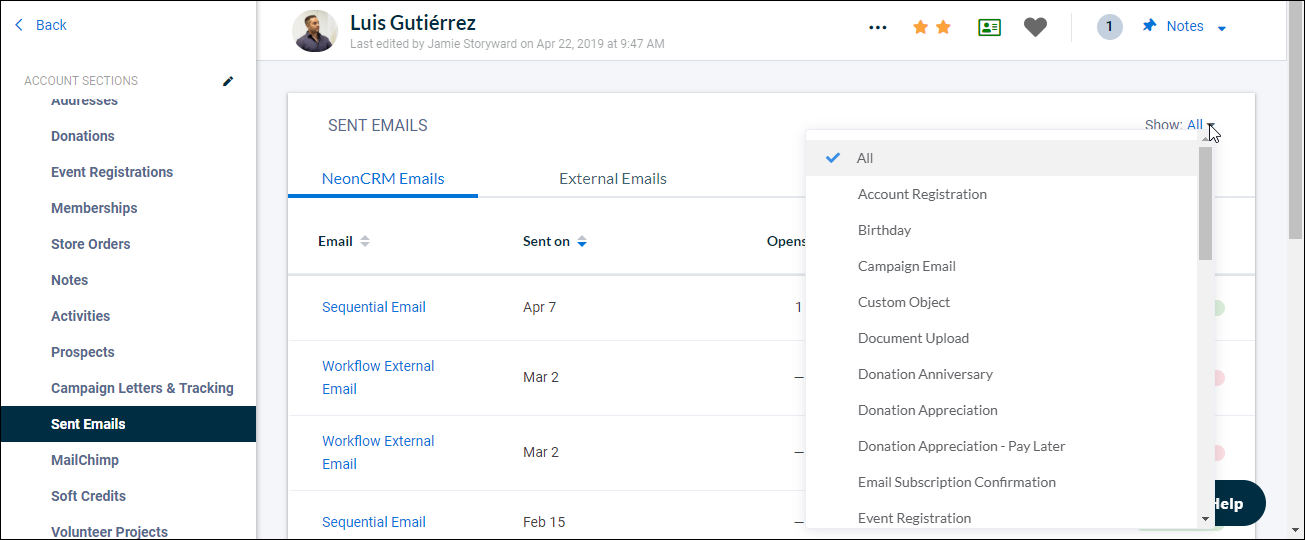 Click on the row to open a preview of the sent email.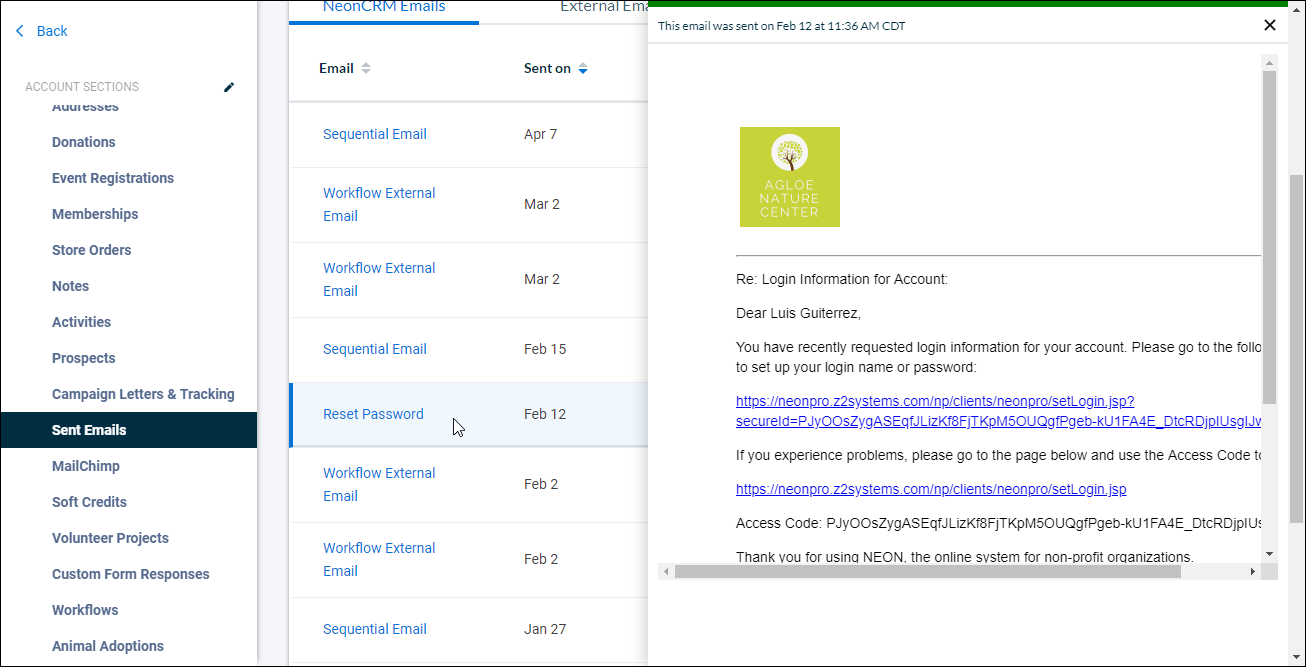 Re-send a single system email
You can also manually send/re-send certain system emails directly from the account page. Navigate to the relevant transaction and click Actions (three dots) next to the transaction record as shown in the example below.