Donations in NeonCRM can be split amongst multiple campaigns, funds, and purposes. To do this, a donation must already be entered into your NeonCRM system. Be aware that only the initial (unsplit) donation will follow your defined System Email behaviors. When you split a donation, NeonCRM does not automatically send out an acknowledgement email regarding the split. Split donations are also not added to your list of Pending Mail Merges.
To split a donation, go to the constituent's record. In the Donations section, select the donation that you wish to split. This will direct you to the Donation Summary page. From here, select the Split Donation button.

This brings you to the Split Donation page. Here, you can specify how exactly you want to split this donation - by amount, by campaign, by fund, and/or by purpose. By default, NeonCRM will split your donation in half, though you can split it more ways than that if you like. For example, I want to split this $1,000 gift to the Annual Fund into a $500 gift to the Annual Fund and a $500 gift to our Capital Campaign.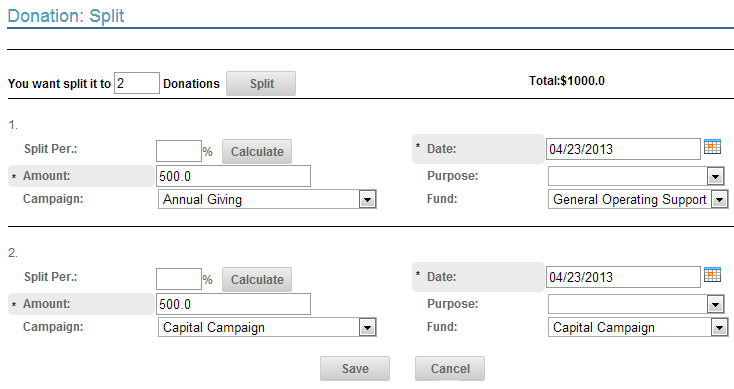 Select Save to split the donation. You will be returned to the Donation Summary page. This will display one of the split parts of your donation. In the Other Items in Shopping Cart section, there will be a link to any other donations related to the split.