Contents
---
Memberships are configured here: Settings cog Global Settings Memberships
---
Membership Levels & Terms
Levels & Terms allows you to configure your membership levels, terms, and fees. More information is available in our Getting Started with Memberships guide here.
---
Membership Custom Fields
You can configure Custom Fields to track additional membership information. These can be set up here:
Settings cog Global Settings Memberships Membership Custom Fields
To create a new Membership Custom Field, click the New Custom Field button.

Membership Custom Fields are added in the same manner as other custom fields in Neon CRM. When building forms inside Forms & Pages > Forms, Membership Custom Fields can be added to the form by dragging and dropping from the Form Builder list. Details here.
For Legacy Membership Forms, there is an additional configuration option to conditionally display the custom field on your membership join/renew forms based on the membership level.
All active membership levels will be listed under "This custom field is available for the following memberships". Check the membership levels for which you would like to collect this information. This field will only appear on your membership forms when the constituent chooses to enroll in one of the designated memberships.
Note: This custom field will only be available for those registering for the selected memberships, so if you do not select any membership levels, then the field will not appear on your front-end forms.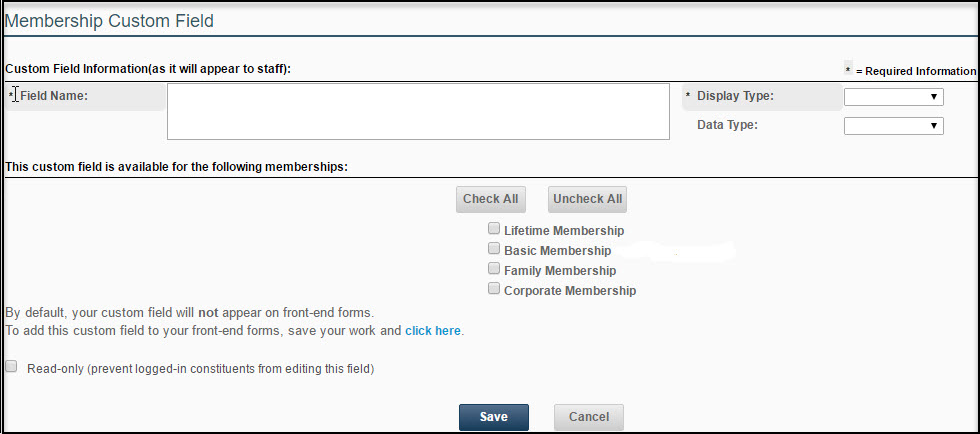 Membership Custom Fields are added to a Membership Form in a separate field selector.
This separate field selector is found below the standard field selector when you are modifying the fields on a Membership Form.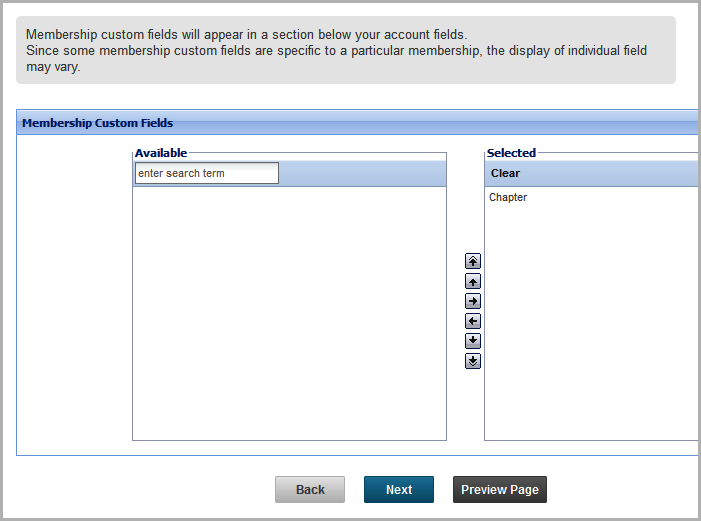 Note: When you add membership custom fields to your Legacy membership registration forms, they will appear at the very bottom of the page. You cannot move membership custom fields; they will always be placed at the end of the form. They only display when the constituent clicks on the applicable membership term.
---
Membership Settings
The basic membership settings govern the way membership terms work in your NeonCRM system. Edit these settings here:
Settings cog Global Settings Memberships Settings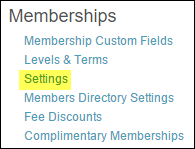 ---
Membership Directory
The Membership Directory settings control how constituents can view and search the membership directory on the front end of NeonCRM to look for other members. To configure the Membership Directory settings, navigate to:
Settings cog Global Settings Membership Settings Membership Directory Settings
---
Membership Fee Discounts
The Membership Discounts section allows you to discount membership purchases based on a date range or membership level.
You can create Price/Percentage Off or Coupon Code discounts for memberships.

Note:
Membership Discounts
do not
allow you to provide discounts for other items to members, such as event registration or store purchases.
Events
and
Store products
have their own discounts.
---
Complimentary Memberships
The Complimentary Memberships feature allows you to automatically assign a membership to constituents who meet a set of conditions. More information is available in our Complimentary Memberships guide here.