In NeonCRM, an "incomplete" transaction is one that has a status of Pending, Declined, or Errored. These could be for the following reasons:
Pending
The amount paid is less than the amount owed
An offline payment was recorded with a status of Pending
Declined
An online payment (credit card or e-check) was declined through your Payment Gateway
Errored
Finding Your Incomplete Transaction List
The easiest way to view and access these transactions is through the Incomplete Transactions widget on any Dashboard: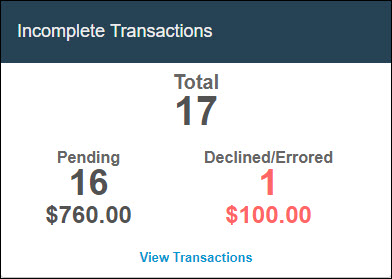 Click View Transactions to see the detailed list.

Managing Incomplete Transactions
For declined transactions, you can hover your mouse over the status to see the error message from your gateway provider telling you why the credit card or e-check was declined.
Note: A constituent who has had a transaction declined online may have made other attempts. If an attempt was successful, it would not appear on the Incomplete transaction list. We recommend that you make sure the constituent's account does not already have an identical but successful transaction on it before retrying the declined payment.
Click on any row in the list to see the transaction details.

From here, you have two options:
1) Cancel the transaction. Click Cancel to keep the record of the transaction in your system and remove it from the list of Pending Payments.
2) Delete the transaction. Click on the Delete button at the top of the page to permanently remove this record from your system.