Each system user can mark specific accounts as Favorite Accounts. This is a way to bookmark a few accounts for quick reference. The Favorite Accounts list is specific to each user, so each user can manage their own list of Favorites.
Accounts can be marked as a Favorite by navigating to the account detail page. The heart icon indicates whether the account is currently marked as a favorite. This account is currently not marked as a favorite:

Click the heart icon to mark the account as a favorite:

You can add a Favorite Accounts widget to any of your Dashboards to easily view all of your favorited accounts. Go to the Dashboards menu and open the dashboard you want to add the widget to. If the widget isn't on that dashboard already, click Add New Widget and search the available widgets for Favorite Accounts.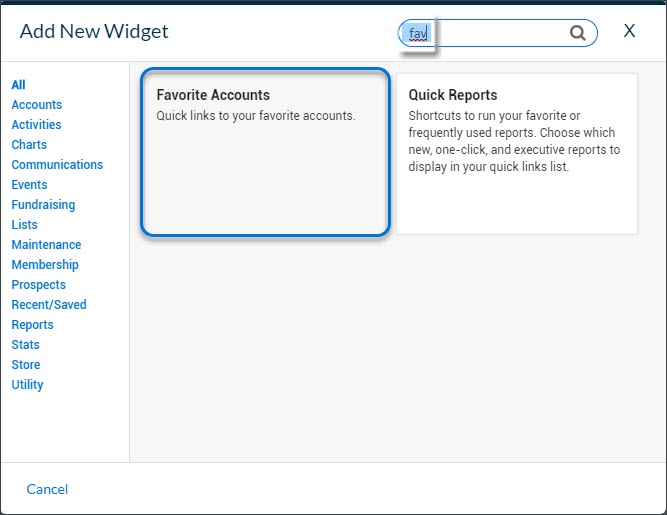 Your Favorite Accounts list includes all accounts that you have marked as Favorites. Click the name of the account to navigate to its Account Detail page.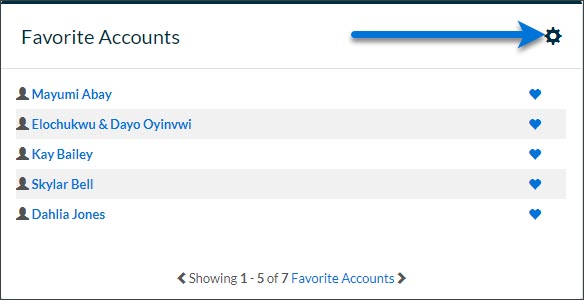 By default, the widget shows 5 Favorite accounts at a time. Click the Configure cog icon to configure the widget to show up to 10 Favorites.
Favorite Accounts can be used as both a search criterion and an output column in many account-based reports.
A second criterion, Favorite Account Owner, is also included. You may either select the dynamically-updated value Current System User, or you may name a specific system user. This criterion is useful for sharing reports with other system users or sharing the report publicly, as it allows you to specify whose favorites are being shown.