Contents
Event Sessions are a way to create events within your event, such as breakout sessions as part of a conference.
Creating an Event Session
To create a new Event Session, navigate to your event and select New Session from the Event Sessions box.

The Event Session detail screen will appear. This screen is very similar to the Event Detail screen that you used to set up your original event. Fill out as much or as little information as you like - only the Session Name is required. You can also add a Session Fee for all registrants here, or you can make an Event Session required for all registrants using the Required option.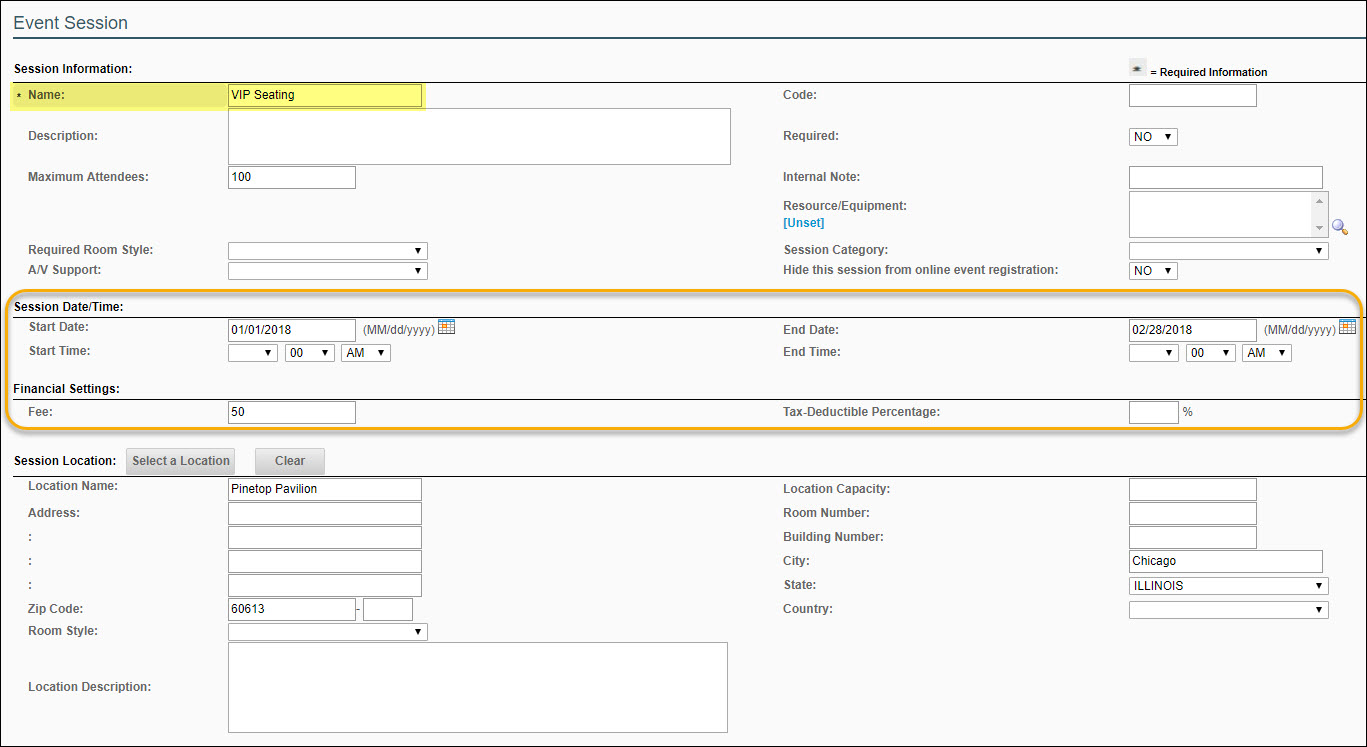 Session Details
Once a session has been created, it is listed under the Sessions section of the Event Detail page.

Clicking on the name of the session brings up the Session Detail Page, which is very similar to the Event Detail page. You have access to the same reports for your session that you do for your event as a whole.

Session Fees
You can charge an additional admission fee for an Event Session that is separate from the event admission fee. This can be done in one of two ways:
If your session has a single fee, enter it in the Fee field under Financial Settings on the Event Session detail page
If your session has multiple price options, add Ticket Prices for the session as shown in our Ticket Prices guide. You would do this instead of setting up the fee on the Session page. When a constituent registers for an event with sessions, they will first choose their ticket price for the event, and then their ticket price for any sessions they select.
Session Tickets can be created from the Ticket Prices section on the Event Detail page. When you create the ticket, select the Session it applies to with the Event/Session dropdown menu.

The first ticket price you create for a session will be the default price for that session on the registration form:

If a registrant chooses that session but wants another ticket option, they can select it from the dropdown menu.

Reporting on Sessions
Clicking the number under the Attendees column takes you directly to an Event Session Attendee Report for that session.

This shows a list of all attendees who are signed up for this session, as well as their attendee and session detail.
The Event Session Registration Report (accessible from the session detail page) will show a list of event registrations associated with that session.
If you need to report on multiple sessions across the same or multiple events, you can access general Event Session Attendee and Event Session Registration Reports by going to Reports > New Report > Event.

In addition, the following reports allow you to search by Session Name or Session Ticket Name, and can return session ticket information in output columns:
Event Attendee Report
Event Registration Report