1. From within your NeonCRM, click the link to NeonPay.

2.
Fill out the short NeonPay registration form
.
Note: To make sure that all of your Neon One tools are properly connected, use the same email address you use to log into NeonCRM as a User. If you're not sure which email you use, go to Settings > User Management. Then register for NeonPay with that exact same email address.

You will be asked to set up 2-step authentication. Follow the steps to confirm your identity through SMS. Be sure to save your back up codes.
3. You will then be brought to the NeonPay dashboard. Click the widget to create a New Merchant Account.

Fill out the Merchant Account form, selecting NeonCRM in the dropdown menu.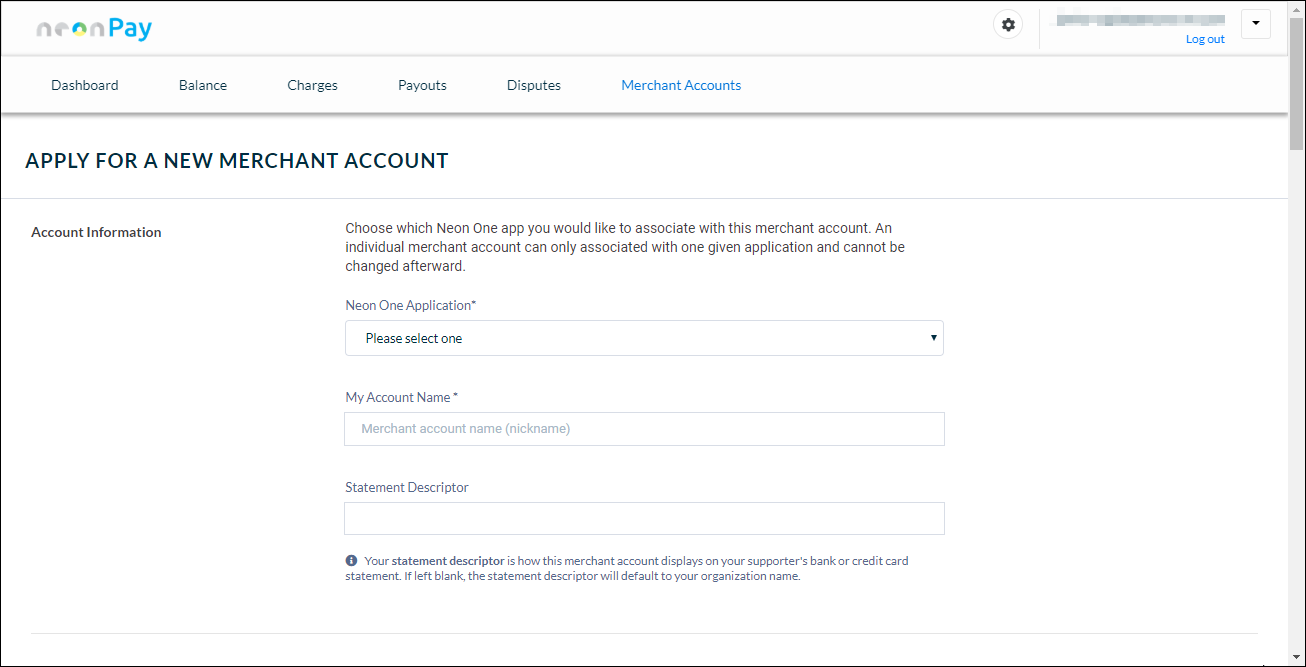 First, fill out your Account information.

Neon One Application - choose the application you would like to associate with your NeonPay merchant account.
Enter an Account Nickname.
Enter a Statement Descriptor. This is what will appear on your constituents' card and bank statements. Note: Once this has been set, it may not be changed.

Next, your Organization Information

Organization Name - enter your organization's legal name as it appears on your IRS documentation. If your organization is known by or uses other names to refer to the organization as a whole, enter the alternate name in the statement descriptor line.
Enter your Organization Type.
Enter your Organization's Tax ID and Date Established as they appear on your IRS documentation.
Enter your Organization's phone number, email address, and physical address. A P.O. box is not allowed in the Organization Address field.

Then, your Primary Contact information.

First and last name, date of birth, and Social Security Number (SSN) of the controlling owner or executive is required by the processing bank in order to comply with FinCEN (Financial Crimes Enforcement Network) regulations.
The Primary Contact can be a president, vice-president, treasurer, secretary, or board member; must be someone in your organization who has the authority to make payment processing decisions on behalf of the organization.
Enter the Primary Contact's Percent of Ownership. This value should be 0% for non-profit and government organizations.
Enter the Primary Contact's personal address. A P.O. box or business address is not allowed in the Primary Contact address field.

Finally, enter your bank details

Choose your payout schedule - either daily, weekly, or monthly. The Daily Payout option is not available during initial sign-up and subject to fees equal to 0.50% of the payout. Please contact Support for more information.
Enter your bank account information, and confirm your account number. Carefully verify this information. Changing the linked bank account after initial setup requires a verification phone call.

Read through and agree to the Terms of Service, then click Create Account.
4. Return to NeonCRM. Test to make sure NeonPay is working.
During this process, you will receive several emails from NeonPay. Follow the link in one to create a password for future access to NeonPay.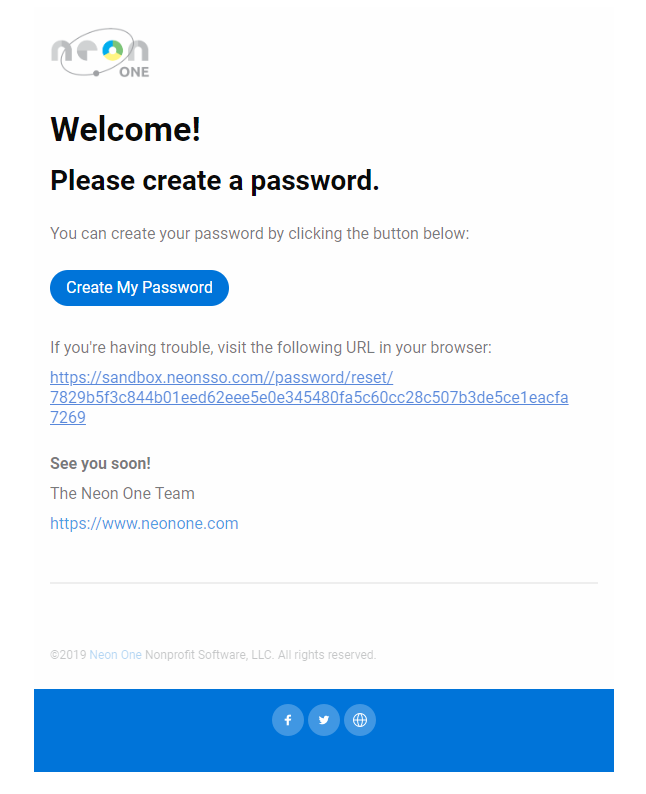 Merchant Account Onboarding FAQ
I don't have access to some of the required information on the Merchant Account application. What should I do?
You will need to fill out all required fields on the Merchant Account application for your account to be configured. If you are unsure about what information to enter in a certain field, please contact NeonCRM's support team to request further assistance.
Our Doing Business As name is not our legal Organization Name. Where should I enter our DBA name?
Enter your legal organization name as registered with the IRS in the Organization Name field, and your Doing Business As name in the Statement Descriptor field. This name will appear on your constituents' bank and credit card statements.
My organization's mailing address is a PO Box and we do not have a physical address. What should I enter as my Organization Address?
If your organization only uses a PO Box, you can enter the home address of the Primary Contact, or home address of another organization executive. This address will not be published or printed, nor will mail be sent to the address.
Why does NeonPay require a Social Security Number?
NeonPay's processing bank requires the Primary Owner's Social Security Number, date of birth, and first and last name, in order to comply with government FinCEN (Financial Crimes Enforcement Network) regulations, and satisfy the KYC (Know Your Customer) requirements of all financial institutions.
Can I change my linked bank account at a later time?
Yes. Navigate to the Merchant Accounts menu item to edit your bank account information.
Can I change my statement descriptor at a later time?
The statement descriptor is set up when you fill out the Merchant Account application. Currently, you may not change the statement descriptor after your merchant account has been created, as it will interrupt the flow of transactions and cause charges to fail.
My account status is Not Ready. What does this mean?
Your application is being held for manual review by our processor's underwriting team, which can take between 1 to 4 business days.
My account was rejected. What do I do?
The processor occasionally rejects accounts while they go into manual review, approving them once verified. If your account still shows as rejected an hour or two after you created the account, feel free to reach out to your support team, who will coordinate with the processor for the steps needed to get your account approved. Occasionally they require additional documentation to approve the account or information to be updated in the NeonPay portal.
How will I know when I can process with NeonPay?
Reach out to your support team for an implementation timeline of NeonPay into your Neon One account.
Can I cancel at any time?
Yes. Deactivate NeonPay in your application to stop sending over new charges. Contact your Application's Technical Support as well to let us know. Existing charges can be disputed several months afterward, so the Merchant Account will remain accessible for limited activities. The NeonPay team will deactivate your NeonPay account so that no new charges can be submitted. We will then set your minimum balance to $0, and payout any remaining balance.