NeonCRM's Files module can be used for
Users to store documents that should be accessible to other Users,
Users to upload documents & publish them to a publicly accessible URL,
For example, you may store a digital download product for the Store as a File in NeonCRM.
Access files uploaded by System Users by navigating to Files > Files.

Manage System Users' files as well as documents uploaded by Constituents by navigating to Files > File Manager.
The disk space available to store your files is 1GB, with a file size limit of 500MB. In addition, the File Manager has 10GB of bandwidth available to transfer your files to your constituents. You can check your current usage by navigating to Files > File Manager and look at your Resource Usage.

If you wish to expand the storage and bandwidth for your Files module for an additional cost, please submit a ticket to the support center.
From here you can see a control panel with your most recent documents listed. The Action column has several icons that have important functions.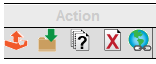 They are:
Check out – Downloads the most recent version of the document. When you check out a document, NeonCRM remembers this and changes the icon's color. Click this icon again to check the document back in.
Download – Simply downloads a copy of the document.
Details – This opens the detail page for the document. From here, you can see the revision history, when it was last checked out, and other details about the specifics of the file.
Delete – This moves the document to the Recycle Bin.
Copy URL to Clipboard – This copies the public web address for the document (if enabled) to your clipboard, so that you can paste it somewhere else. This is useful for creating hyperlinks to the document.
Supported File Types
Documents with any of the following file types can be uploaded to Files:
.txt
.csv
.xls
.xlsx
.pdf
.ics
.jpg
.png
.gif
.zip
.docx
.pptx
.html
.epub
.pub
.mov
.mp4
.avi
.wmv
Uploading a New Document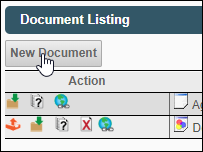 You can upload files of any format. Select the file you would like to upload and add a description to help System Users understand what the file is.
The status determines whether or not the file is accessible for people to download this file from a web link.
If you choose to Publish your file, NeonCRM will generate a URL which will link to the file. You can distribute this link as you choose. You must make your file Available to public for the URL to work.

Category is a field that makes your documents easier to sort through. To create or manage Categories, navigate to Settings > Global Settings > File Manager > Categories.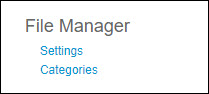 You may add new categories, delete existing ones, and make categories active or inactive. The Code column is for your own internal reference. If a category is Inactive, it will not appear as an option for new Files. This is often preferable to deleting a category, because deleting a category removes it entirely from all documents that may have it.

When you're finished making your changes, click Submit at the bottom.
Check Out/In
Check Out and Check In a document to keep track of who has made revisions. NeonCRM tracks every revision on a document's detail page. When you check a document out, NeonCRM remembers that you have checked it out.
To check it back in, either click the Icon on the Dashboard, or find the document's detail page and click the "Check In" button at the top. This allows you to upload the new version of the file. The process for this is very similar to uploading a new document.
The Checkin Comments field allows you to enter notes specific to your revision of the document. NeonCRM maintains copies of all versions uploaded, so you never lose changes that may have been overwritten in newer versions.To view the revision history of a document, click the Details icon.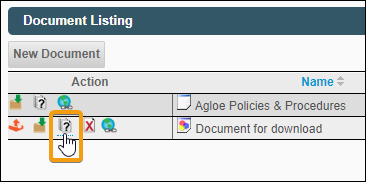 From the document detail page, you can check the document out, or click edit header to edit the name, description, and publishing settings for this document.
In the Revision History, click Retrieve to download a version of the document.

Recycle Bin
When you delete a file, it goes to the Recycle Bin. This is found by navigating to Files > Files Manager > Recycle Bin Management.
For each document in the Bin, you have three options:
Retrieve – This downloads the document
Restore – This places the document back into the main listing
Delete – This permanently deletes the document