---
Why does Neon have these fields?
Regulations on how organizations can collect, store, use, and share constituent data - such as EU General Data Protection Regulation (GDPR) and California Consumer Privacy Act of 2018 (CCPA) - are becoming more common.
The NeonCRM Data Privacy and Consent feature is a tool to help your organization solicit and collect constituents' informed consent for you to contact them and/or share their data. Turning on this feature will add at least one consent field to all standard Neon forms. It also provides a link to your privacy policy on the same forms.
To comply with these regulations, you must then factor the constituents' consent into your communications and adhere to the privacy policy. For example, you should add the Mail Consent field as a search criterion when running a Mailing Report.
Enabling consent fields
To enable the standard consent fields, go to the Settings cog Global Settings Forms & Web Pages and click Data Privacy & Consent.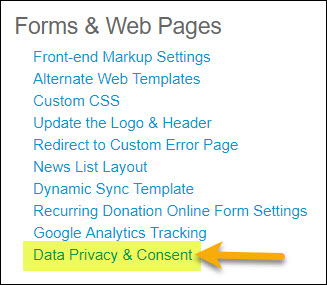 You will see a list of 5 available fields to enable. These fields will record separate consent statuses for each of the 5 following potential uses of your constituents' personal data:
Email communications
Phone communications
Mail communications
SMS communications
Data sharing (the sharing of personal data with a 3rd party)
By default, these fields are disabled. You may enable only those that pertain to the type of use you intend to make of your constituents' data.
Enabling a consent field will automatically place a checkbox requesting that consent on all standard online forms that collect personal data. You will still have to add these fields manually to Surveys.
Each consent field comes with default text like that shown below. You can edit this text to display your own preferred wording.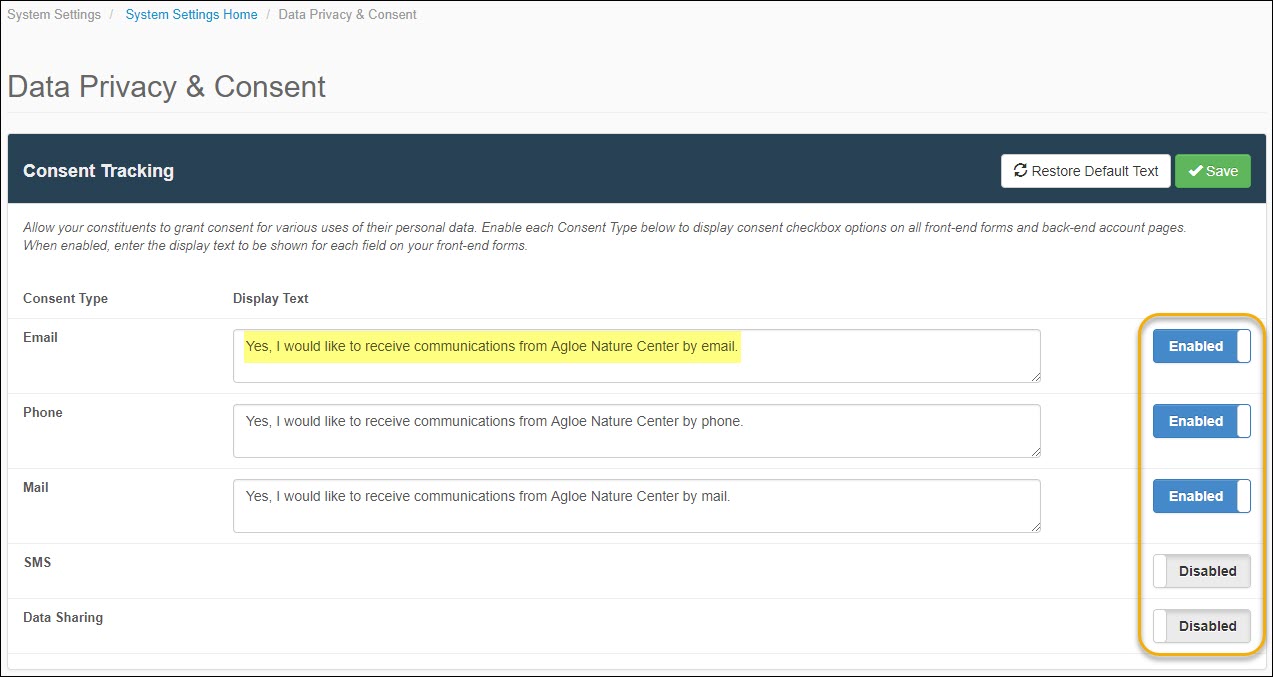 Click the green Save button to save any changes you make. Restore Default Text will restore the display text of all consent fields to the default.
Privacy Statement
On the same page, you can enable a Privacy Statement to appear on your online forms in the same section as the consent fields. You can display your entire privacy statement on the form, or link to a page where the statement can be read separately.

There is no default text for the privacy statement.
Consent fields on your online forms
Once enabled, your consent fields and/or privacy statement will appear on all online forms that collect personal data:
Existing constituents who already have accounts in your database will be able to update their consent information at any time from the Update My Profile page of the Constituent Login Portal: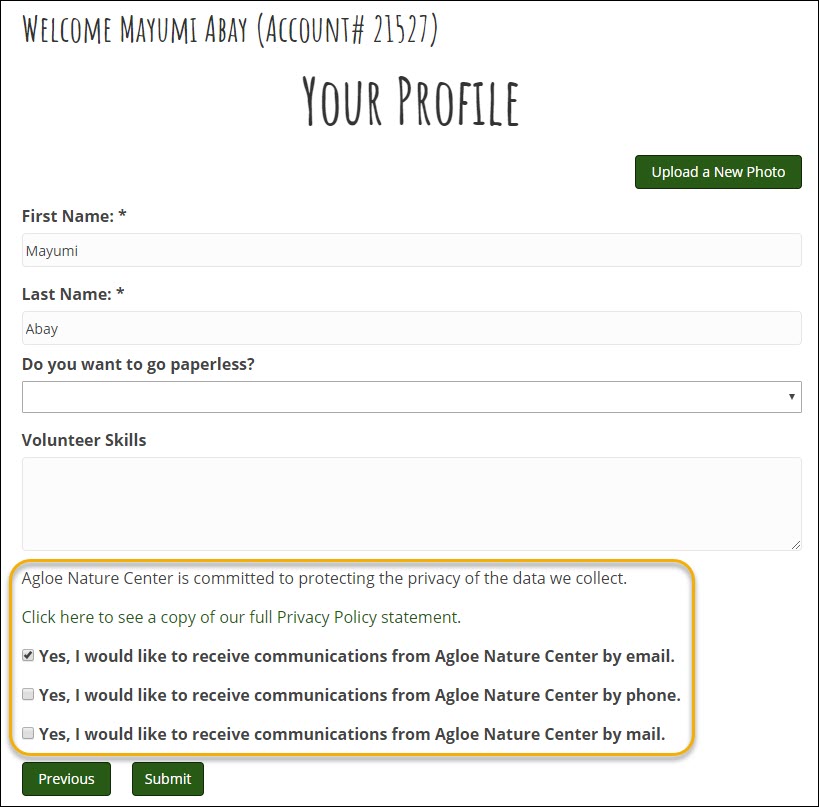 Your online forms should clearly identify you and the purpose(s) for which you are collecting any personal data.
If you'd like to provide details about your organization on your online forms that isn't already included in your web template , you can do this by adding header or footer content to any section of your forms using the Configure Fields & Sections utility.
You can use the same utility to provide the required details regarding the purposes of the processing for which the personal data are intended. You may include this information on the form itself, or link to a separate page.
Managing consent fields as a system user
Any consent fields you enable will become available on your account detail pages, with a default value of Consent Not Asked. If you don't see the section, use the Edit Account Sections feature to configure your personal account view so that it includes the Data Privacy & Consent section: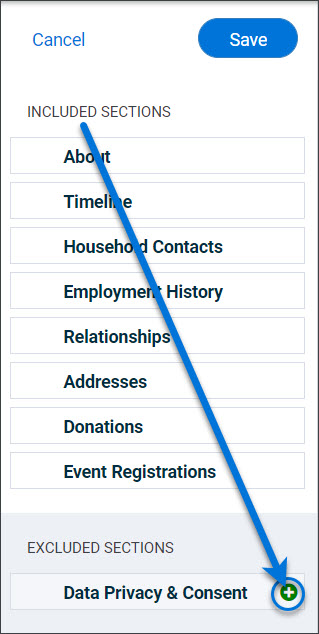 If you know an account's consent status for any of these fields, you can change the status to Consent Given or Consent Declined as appropriate. Click the Edit icon to edit the consent status for an account.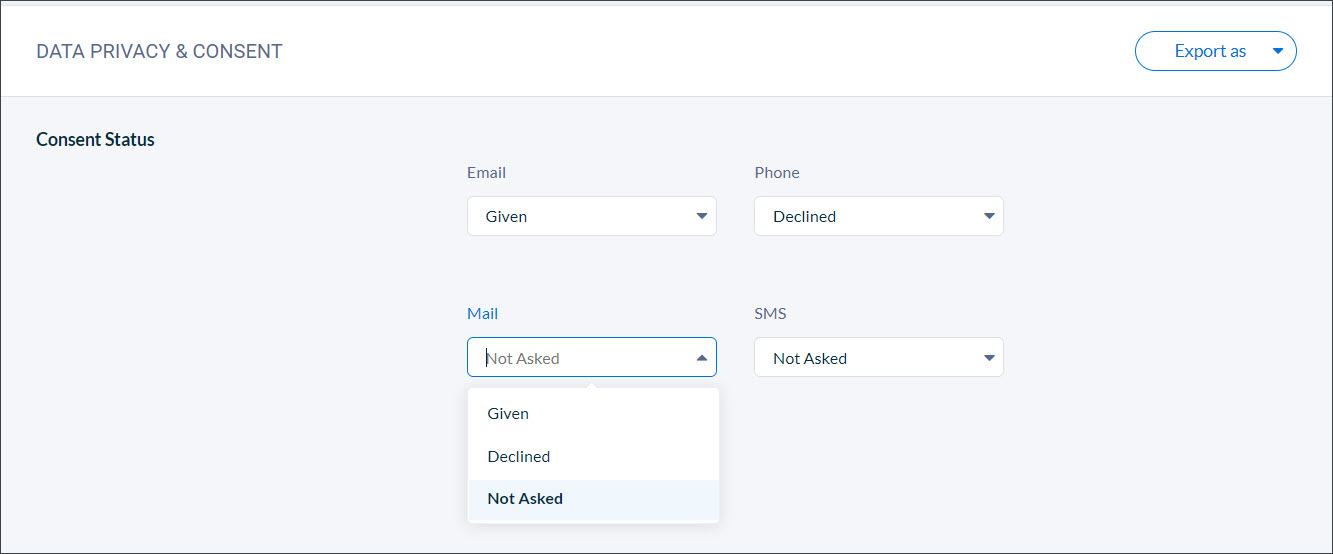 You can also edit the consent statuses from the Data Privacy & Consent widget of the account's About section.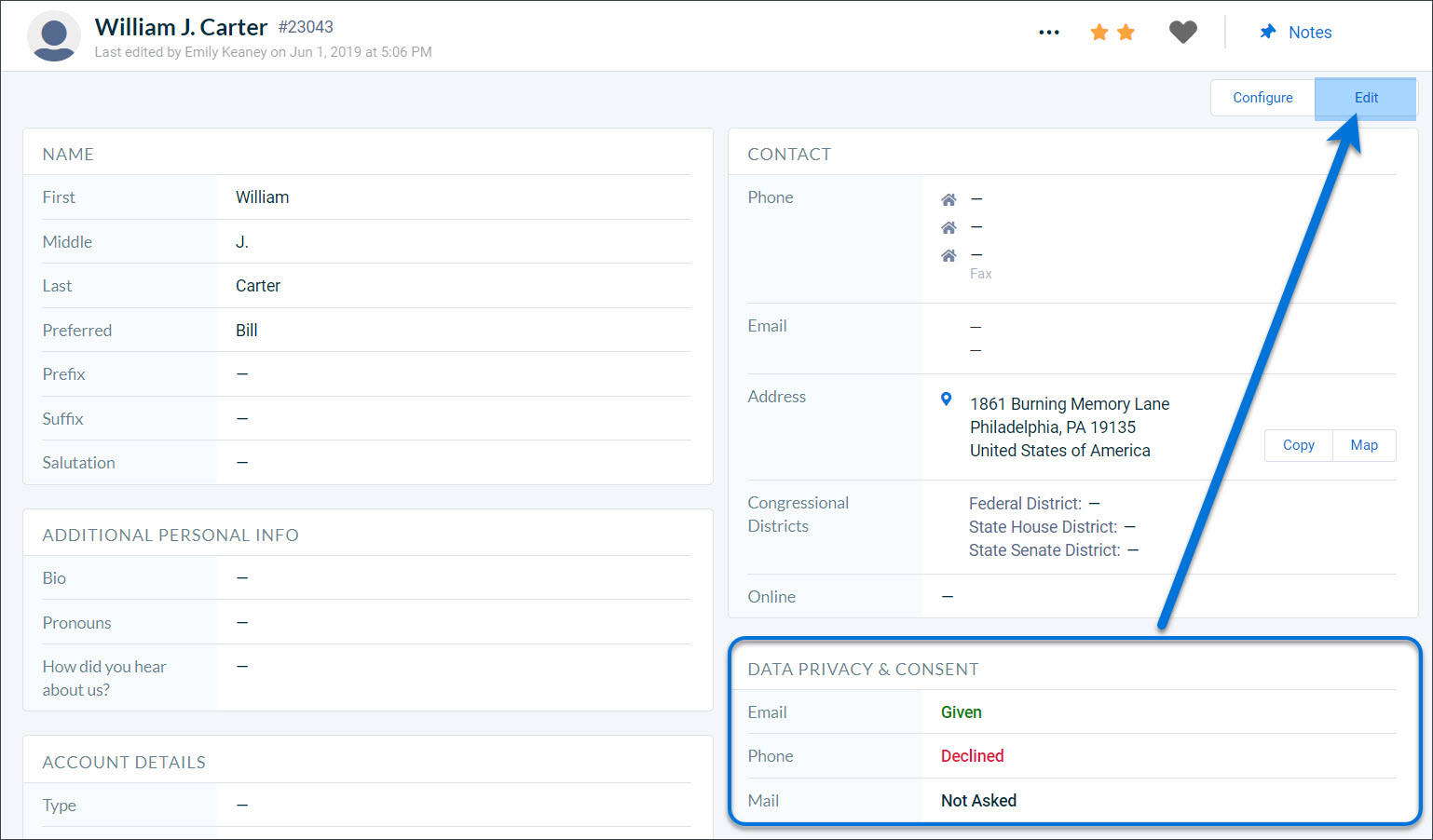 Note:
Changing a status to "Consent Declined"
does not
affect the standard
Email Opt-Out
or
Do Not Contact
fields on the account record. Those fields are managed separately.
Importing consent information
You can also add Consent Status information to accounts through the Import Manager.
Each consent status field is available for mapping in the Account Import process when importing new accounts. You can also update the consent status of existing accounts through the Account Batch Update process.
Viewing and reporting on consent information
You can view the history of any account's consent status from the Data Privacy & Consent section of the account detail page.
This section will show the current status as well as a full log of all changes made to each account's consent status, including which status was changed, when it was changed, and how the change was made (by the constituent, by a staff member, by the import manager, etc.)


You can also view the consent statuses from the Data Privacy & Consent widget of the account's About section.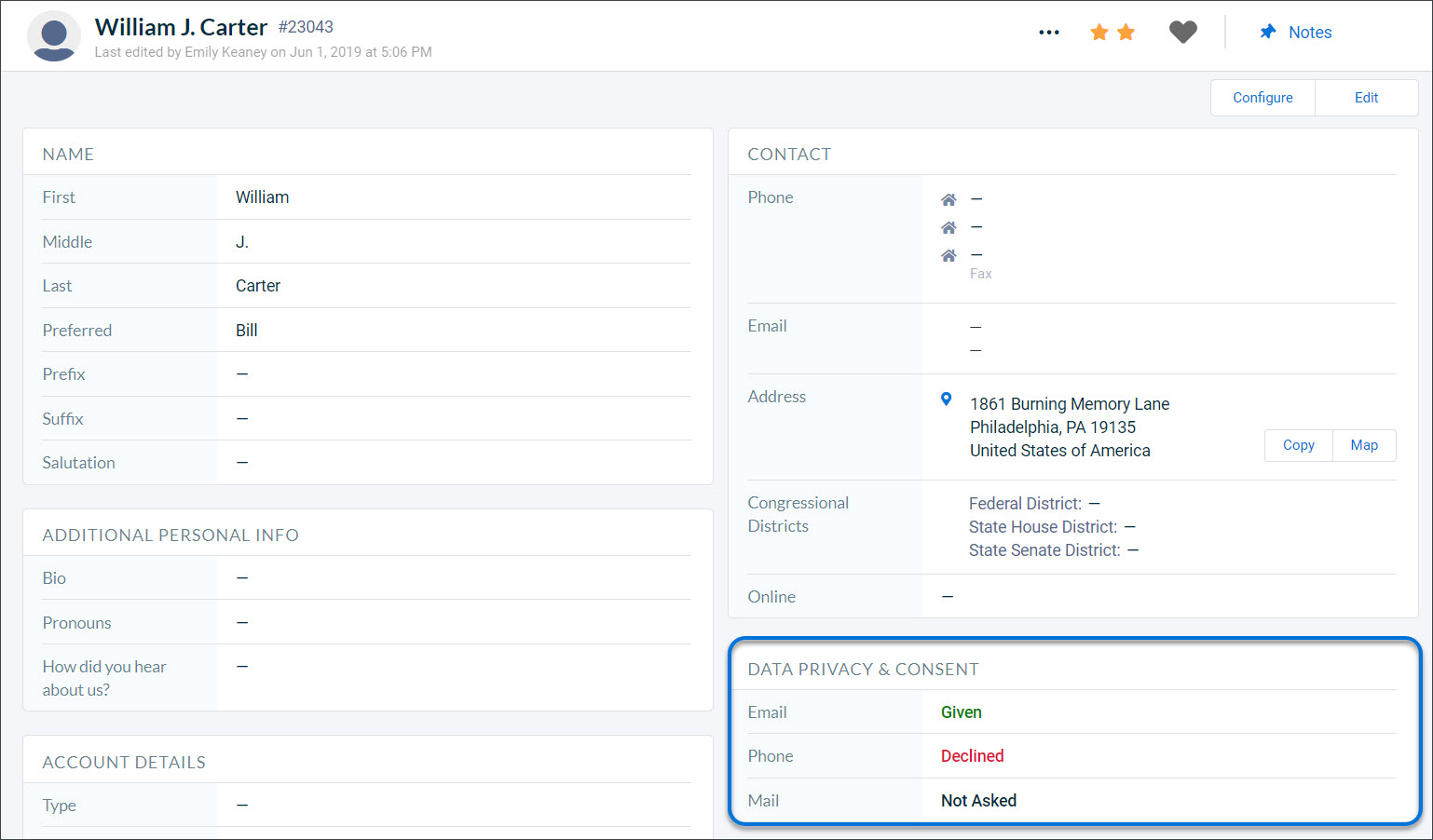 Several reports will also allow you to search by consent status and/or to view the consent status of accounts in the report results. These reports include:
Mailing Report
All Accounts Report
Email Audience Report
Stats Report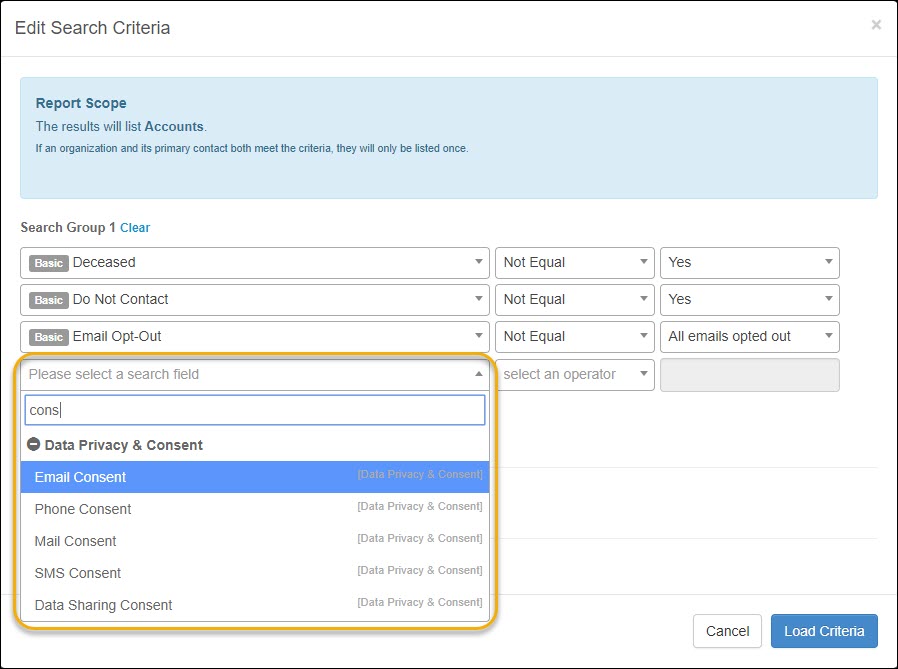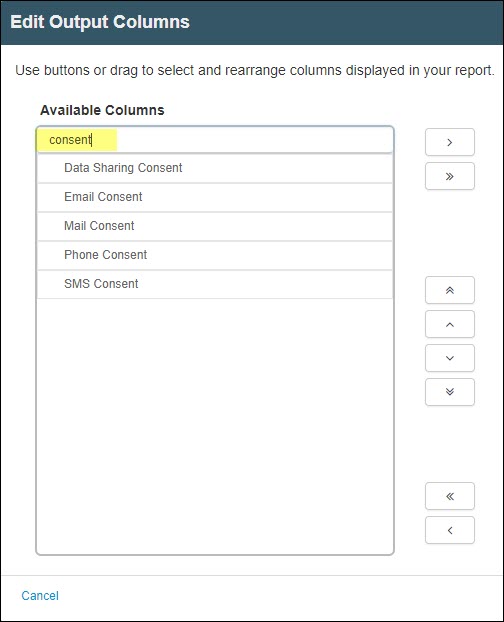 What happens if I disable consent fields?
If you enable any consent fields and then disable them, the fields will disappear from your online forms and your account pages, but the consent data itself will remain in your system. If you ever re-enable those fields in future, the data will be restored.
You will still be able to report on existing consent data, even if the consent fields themselves are disabled.