Seat Hold System
Holds give you the ability to retain specific seats for box office control. Holds can be used for house seats, VIP seats, sponsor seats, obstructed view, etc. They prevent these seats from being purchased online, and in the box office they are outlined in one of three colors, so your box officers can identify and sell them as needed. Holds can be set in place in three ways:
Set on the seating chart (see Venues) so that any new performance you build in that venue will already have those seats on hold (note that when added to a venue they do not automatically apply to previously built performances).
Set on any individual performance, or across an entire show run from the Performances screen by clicking the Holds link on any performance.
General admission holds are set on the Performances screen as well by inputting a number in the General admission holds field on each performance.


You have three categories of seat hold available: A, B, and C. They appear at the top of the HOLDS seating chart screen (for assigned seating holds only). You can apply a specific definition for each by editing the category and inputting a description. This name will also appear on reports.
Examples
A - Purple: "House Seats" for ushers, late arrivals, etc

B - Orange: "VIP Seats" for special guests, etc

C - Gray: "Obstructed/Limited View Seats" that you instruct box officers to sell last

Select the category you want to apply to specific seats by clicking "Select". The different categories have different colors to help you distinguish them on the box office pages (note that on the public pages they simply appear as a sold seat).
Click each individual seat you wish to place on hold.
Remember to click Save when you want to save your holds. Repeat the process for each hold category you are applying.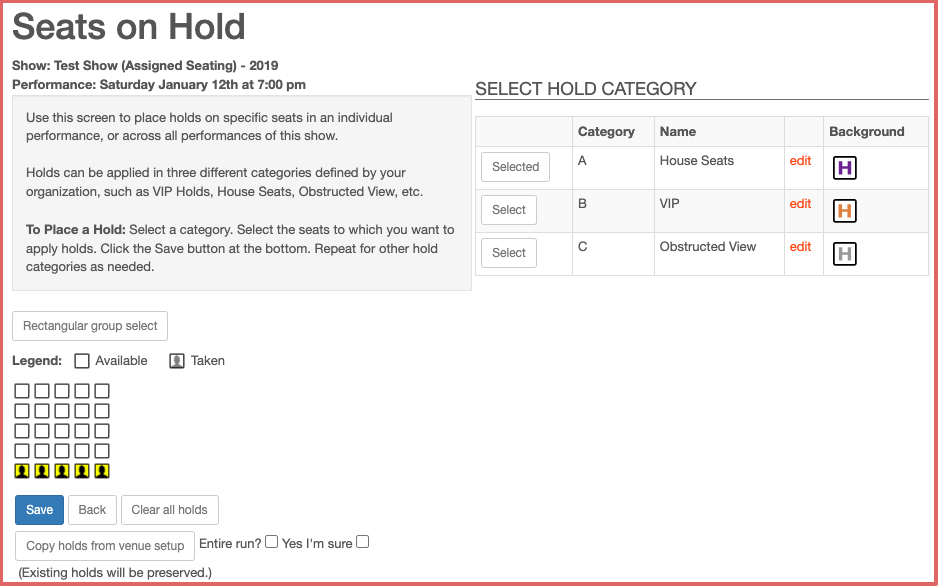 You also have the option on the Global Settings screen to change the appearance of holds to the public to show an "H" with the same color coding as in the box office.

To choose holds to sell, simply select those seats in the box office screen as you would any other seat. Please note that the user must have the proper permission enabled to sell held seats (see - Administrators).
REMEMBER that if you select a held seat and then release it, the hold is not restored. The seat is then available for public purchase.
To release holds, you can remove the holds from the Holds setup screen, via the performances setup area. Or you can simply select and then release seats in Box Office Sales to remove the hold.
---

NOTE: If you're interested in using the RESERVE feature (unpaid ticket orders on specific patron accts) located on the Box Office Sales Screen, read more about it here. Unlike holds, reserves are seats assigned to a specific patron in an unpaid ticket order. Holds are NOT patron specific.
Related reading
Setup - Season setup - Holds