This article covers summaries of
How Arts People defines memberships
How memberships work
Membership setup
What are memberships in Arts People?
Donor Benefits
Memberships allow you to give benefits to your donors such as discounts and early access to ticket sales. Memberships are based on a year-long active window for most types. During the active window, your patron receives their membership benefits.
Renewal
When a membership gets close to expiring a renewal notice via email and/or postal mail can be sent to the member using the Database Batch processing area of your system to help them stay current.
Levels
Each membership type can be set up to have levels where a minimum donation amount will trigger a specific level of membership. Membership benefits can increase with each increase in membership level.
How do you set up memberships?
Funds
Before a membership is set up a fund is created that it's linked to. You can designate the fund for a specific fundraising project or have it be your General Fund that's used for operating expenses.

When a donation is made into the Membership fund it triggers a membership if the amount is at or above the minimum amount for the lowest membership level.

For example, if the lowest level for the membership I set up is granted with a $50 donation the donor will receive a membership when they donate that amount.

If the donor gives less than the minimum they won't receive a membership, but the system will track the amount they gave and add it subsequent amounts so that when they reach the minimum amount they'll receive a membership (if the donations are processed within the active window for the membership).

Donations are cumulative

Donations made during the active window for the membership are cumulative and increase the member's level.
What kinds of memberships can I set up?
There are three kinds of membership in Arts People - each is called a membership type.

Based on the donation date

The most common membership type is Rolling.

This type is focused on the date the donor gives: their membership lasts one year from their donation date.

Based on the expiration date you set

The second most common membership type is Annual.

With annual memberships, you decide the start and the expiration date. For example, if you set January 1 as your start date and December 31 as your expiration date and a donor donates on December 1 their membership will only remain active for 30 days. Organizations often choose an Annual membership setup when they have an annual membership drive and want to encourage giving during a specific window of time.

Flexible active window

The least common option is referred to as Once.

This type can be set up to have whatever active window you'd like it to: short, long, or no expiration. The Once type is often used when you don't want the membership to expire, or if you have a campaign/fundraising project that's limited to a specific time and you only want benefits to last the length of the campaign.
What to name the type?

"Individual membership" is a common name for a membership type. In this case, the membership is given to individual members of your patron community as opposed to Corporate/Business members.
Can I have multiple membership types?
You can, but it's usually not needed and can be confusing to patrons.

If you opt to have separate types it's most common to have just two: Individual membership (for individuals) and Business membership (for businesses/organizations).
Membership Levels
Levels
Levels allow you to give more membership benefits the more a patron donates.

For example, Quartz, $1000 minimum, Ruby $2000 minimum, Diamond, $3000 minimum, etc.
Here's a screenshot from an Arts People demo account. All three options described above for how membership types can be set up can be seen here: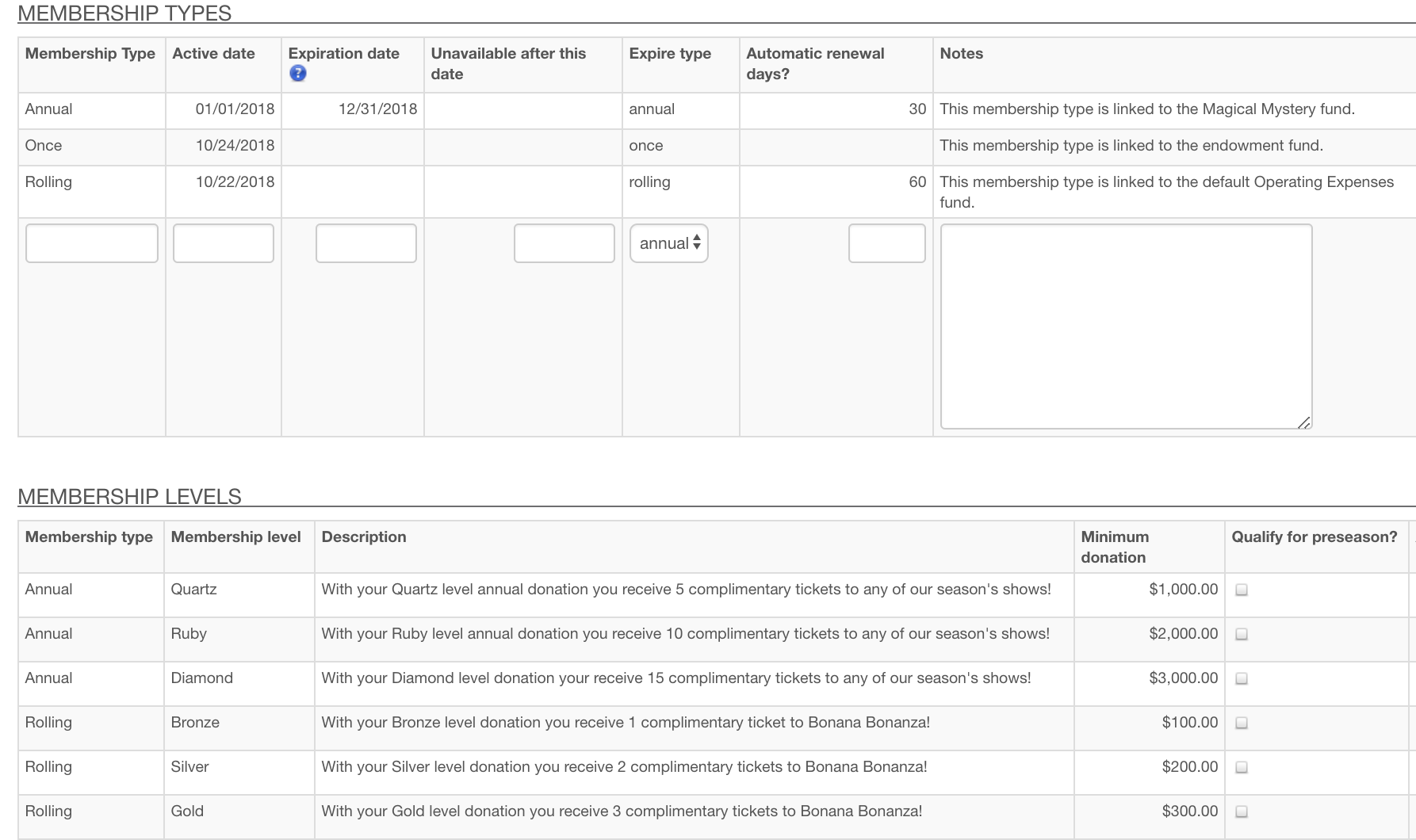 For most, it's best to work with your client support rep on Membership setup as there are quite a number of pieces to consider! Submit a request to reach out to your rep to get the process started.
Read on here for detailed setup steps and more info on membership setup.
Thank you for reading!