Ticket Add-ons are a feature that allows you to add retail items on to a ticket order. Add-ons may or may not add additional cost.
Examples of common add-ons are meal or refreshment options, event merchandise, assisted hearing devices, or other events related to the show - such as an after-show book signing, meet & greet, or reception.
Reach out by submitting a help desk request to your client services rep for help getting your add-ons setup.
Give your rep the following information about your add-ons:
The name as you'd like your patrons to read it
The price
The name of the show or shows you want to sell this add-on with
The quantity you have available for each performance
Selling Add-ons via the Box Office Sales screen
1. First lookup the patron you want to sell tickets to, then add the patron's tickets to their order.
2. Click the Ticket Add-Ons button to go to the Add-Ons window.

3. You'll see the tickets on the order, with the add-ons available for each ticket to the right.
4. Select the add-ons and then click OK to continue back to the order.

5.
After clicking OK, you'll return to the Box Office Sales page, take a look at the tickets.
You'll see the add-on with the ticket in the Discounts column.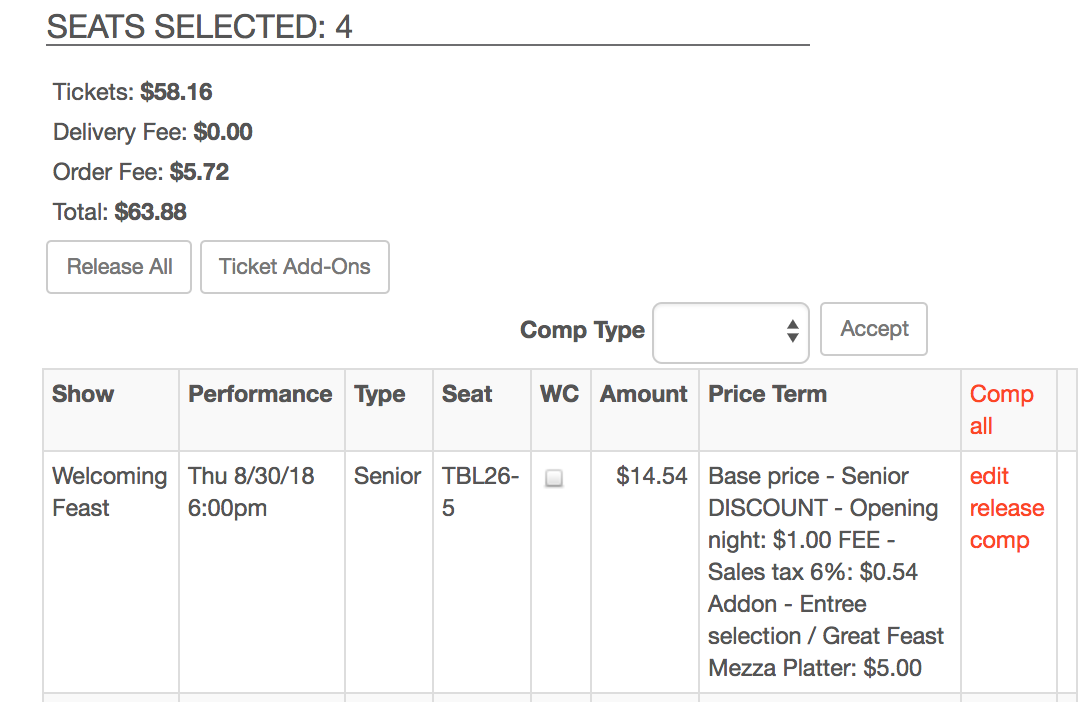 NOTE: If you have 25 or more tickets on the order, to make the selection process quicker for large orders the page presents an Apply dropdown menu to apply your selection to all, all below, or next.