Setting up Analytics
You can track who accesses your purchase pages and completed transaction conversions. If you're already using an analytics program, such as Google Analytics, all it takes is a defined goal and our unique URL that reveals the source of the click. This article describes how to set up Google analytics tracking, though other tracking codes can be used.
You will need to access or create a Google Analytics account. Once you are logged into Google Analytics, go to the Admin Tab. In the properties section of the Admin screen, click the dropdown and choose "Create new property."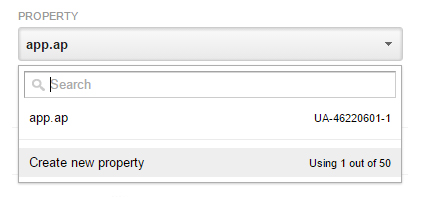 Make sure that the website URL is set to https, and the URL is app.arts-people.com (see below)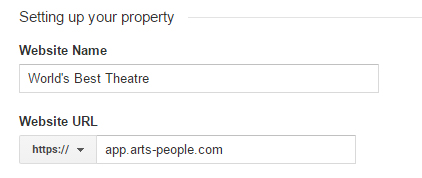 Setting the Confirmation Screen as a Goal
To use the confirmation screen as a goal in Google Analytics. Add: "/public/confirm/order/" as a goal url under Reporting -> Conversions -> Goal URLs. Tracking conversions using this URL will provide statistics on percentage of visitors who completed their transaction.
Once you have the tracking code in place and a goal set up, you can begin tracking conversions.
Note: Analytics tracking requires access and set up of a third party tool. If you have questions about setting up or using an analytics account, please refer to the software manufacturer's website for additional information and support. The instructions above refer to Google Analytics setup. Visit their website for additional technical support related to their analytics tools.
Send a request to your Rep
When you complete setup of your property send a request to your Arts People support rep and ask to have your tracking code entered into Arts People. In Google Analytics tracking code can be found via Admin>Property>Tracking Info>Tracking Code.
Tracking code starts with:

And ends with:

Copy and paste the entire code snippet into your reply to your CS rep.
(Arts People support staff use special setup pages for tracking code entry.)