Boca Ticket Printers
An option for clients for printing in their box office is to use a thermal ticket printer to print individual tickets.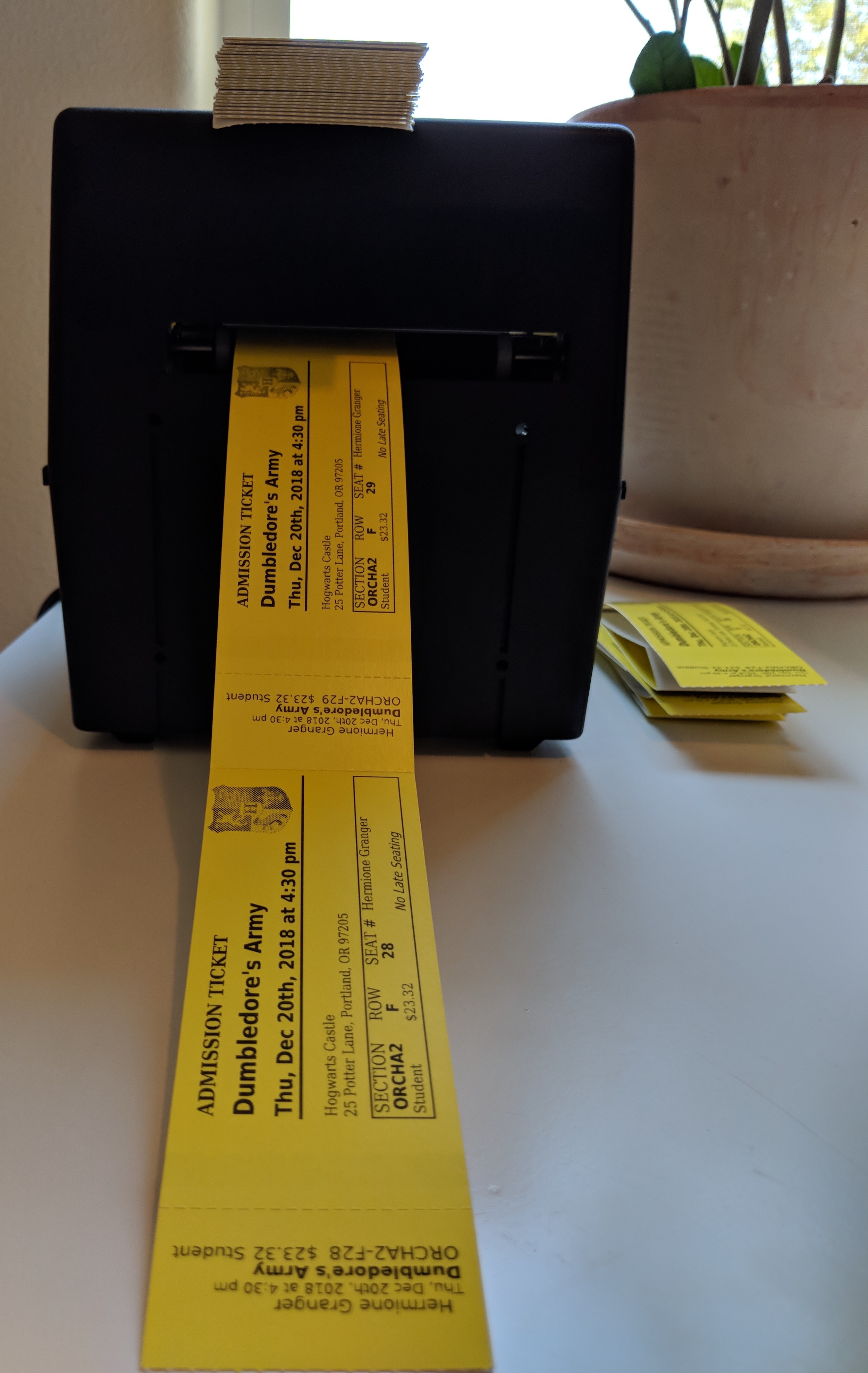 Of course you can always print the standard Letter sized ticket in your box office if you wish, but some organizations prefer a more familiar style of ticket in their box office, or just need the increased speed in printing tickets.

Purchase Discounts for Arts People Clients:
Boca Systems, makers of the most common thermal ticket printers such as those found in many theatres and movie cinemas, has made a special agreement with us to offer a discount purchase rate on their printers for our clients.

If you wish to purchase a printer, please contact Boca Systems at http://www.bocasystems.com/ 561-206-0107 or email boca@bocasystems.com.
Or contact Louis Rosner - 561.206.0137 - louis@bocasystems.com - Sales Director
Our special Customer pricing:
Lemur - basic printer - $820
Lemur-S - internal storage - $1025
Lemur-2 - two path printer - $1394
Other pricing info that will affect your total cost:
Many clients opt to add an LCD display to the basic printer because it provides an easily visible display of the printer's status. Adding the LCD display to the printer adds approximately $150-$125 to the total printer cost.
All ticket printers come with standard USB, parallel and Serial (RJ12 connector) interfaces.
A USB cable is the recommended way to connect the printer to the computer - a USB cable can be included with the printer as an addon for approximately $15.
Shipping is approximately $25 depending on location sent to. All printers are shipped from Boca Raton, FL.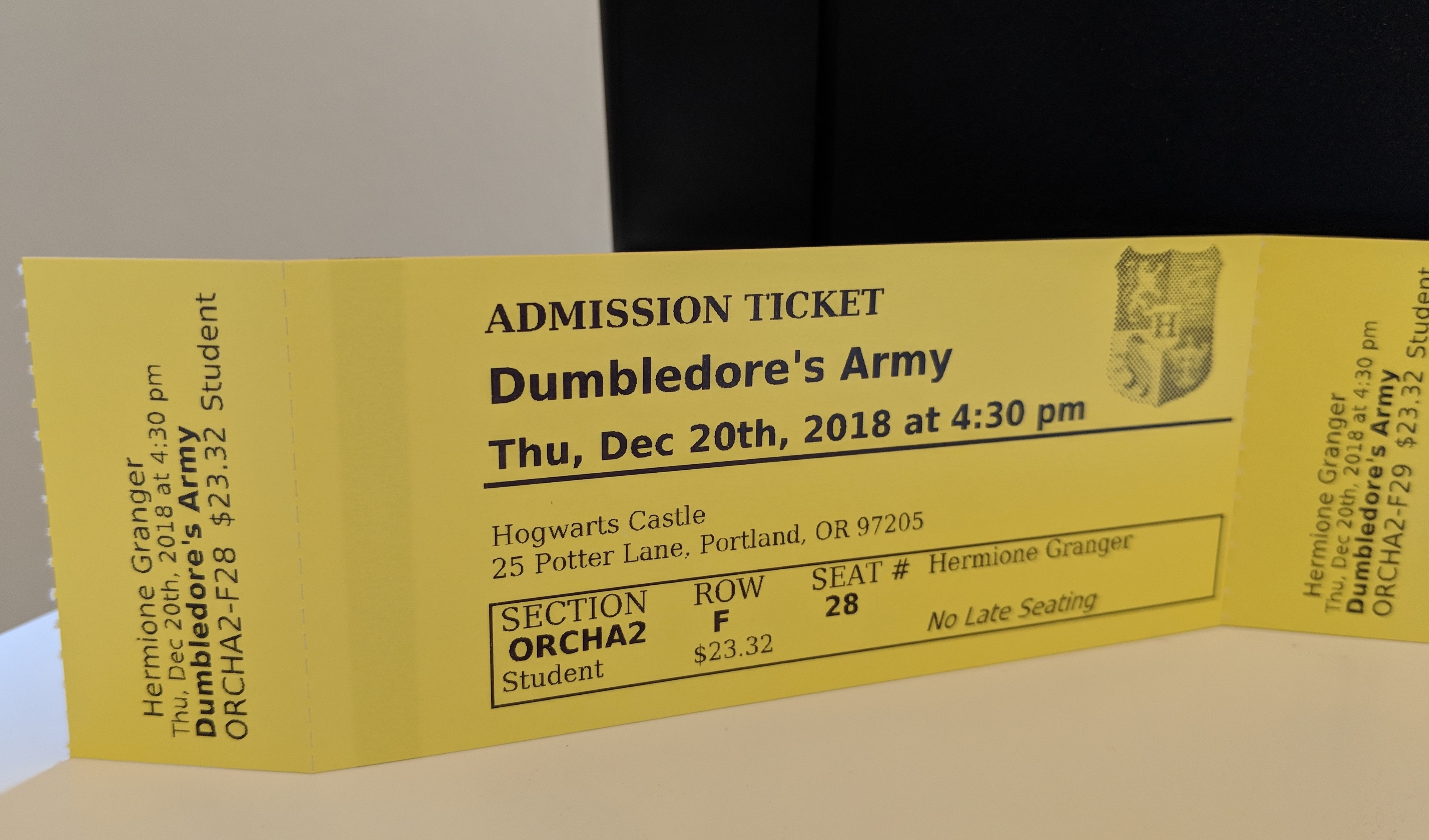 Optional upgrades include:
LCD display screen

As mentioned above, this is a commonly added option - it allows the user to easily see the printer's status.

Automatic cutter

This addon is less commonly chosen than the LCD display but may be a great help for clients processing a large volume of tickets. The approximate price of this addon is between $300-$250.
Please note that if your organization does not have dedicated IT staff Arts People does not recommend the following upgrades: Ethernet, WiFi or Bluetooth interfaces. If you choose these upgrades, Arts People staff won't be able to assist with their setup. For setup support for these upgrades you'll contact BOCA support and/or have your IT staff-person refer to the Lemur setup manual.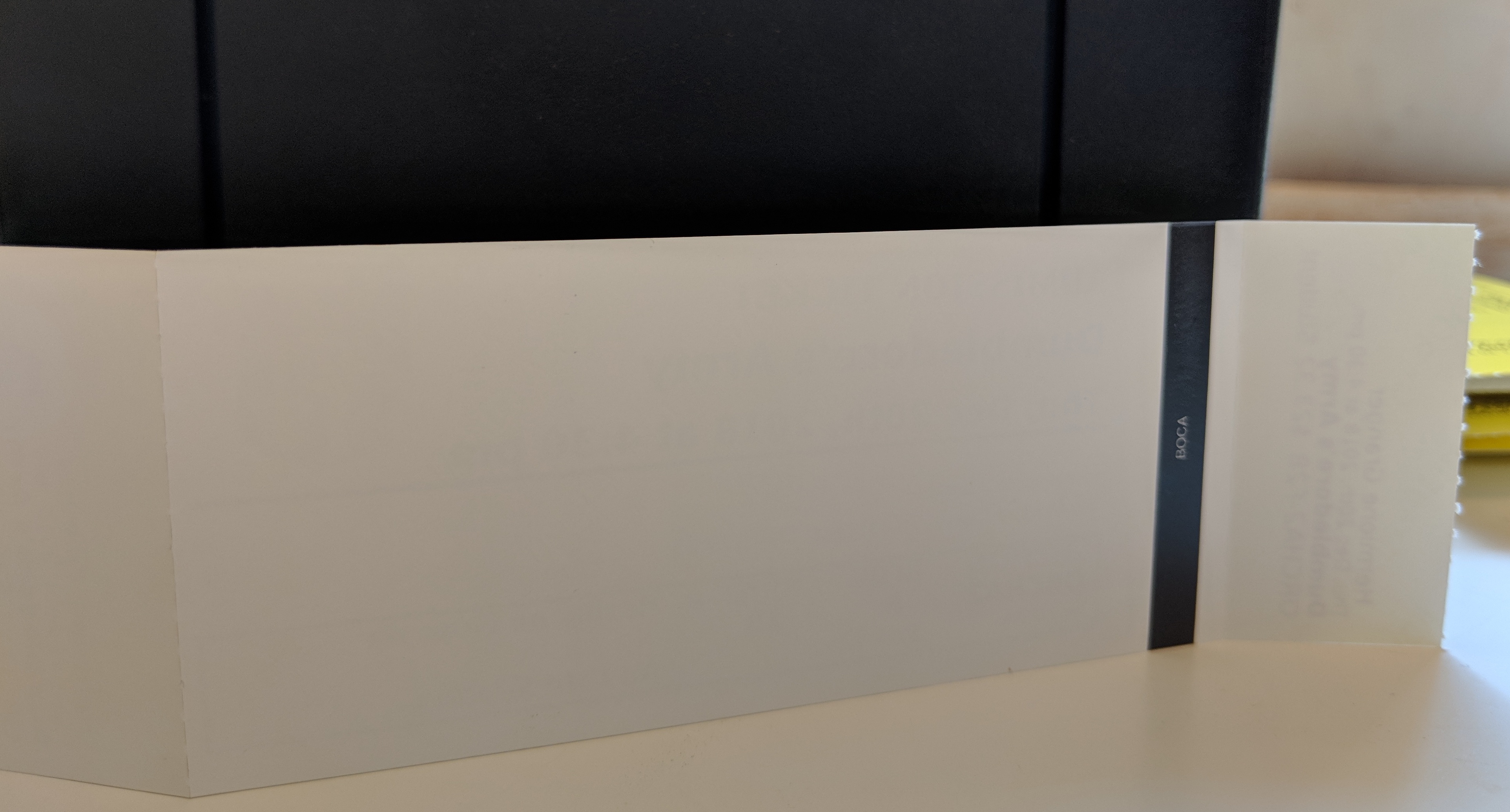 Is it OK to buy a used BOCA?
We don't recommend purchasing used BOCA printers from any source, other than from BOCA directly. If you choose to purchase a used BOCA printer, we recommend insuring you have obtained a warranty for the printer and a refund agreement in the event the printer is not compatible with your computer(s)
and/or Arts People.
Resolution options
We sometimes get questions about whether 200dpi or 300dpi option for printer resolution is preferred. In our experience 200dpi option is fine, since your ticket will generally be text only printed on the ticket itself. The only case for 300dpi would be if you plan to print more detailed B&W images on your ticket from the printer.
Printer Driver
Download the driver for your BOCA before plugging the it into the computer you'll be printing from. Printer drivers that match the operating system on your computer can be found on the BOCA site. In order for your Boca or other printer to print tickets from the system, the printer must be able to accept a pdf file.
Ticket setup
After you get your printer, the ticket size will need to be setup on your computer for the BOCA to print your ticket design correctly on the ticket stock. Please visit this article for directions.
Ordering ticket stock from Boca
BOCA produces over 1 billion tickets each year on its 5 state-of-the-art printing presses. BOCA ticket customers enjoy many financial and operational benefits, including:
Lifetime Print Head Replacement Policy: Customers that exclusively use BOCA ticket stock are entitled to free print head replacements for the lifetime of their printer.
Printer Rebates: BOCA offers a $50 rebate per printer for custom ticket stock purchased within 2 months of purchasing a new BOCA printer (this offer is limited to a maximum value of $1000 per customer).
Real Proofs: BOCA is the only ticket stock manufacturer that provides its customers with both a PDF proof and a real press proof prior to production (custom printed ticket designs)

Custom Ticket Stock
For custom ticket stock, customers can contact Louis Rosner (Louis@bocasystems.com) and he will make sure that they receive prompt assistance. Pricing for custom ticket stock depends upon the quantity, design, and material.

Generic Ticket Stock
BOCA offers generic ticket stock in a variety of sizes and colors. The most popular size is 1.975" x 5.5", and it is available in white, orange, yellow, green, blue, and pink. The cost for this size stock is:
$19.20 + shipping for a stack of 1000 pieces or
$96 + shipping for a case of 10,000 pieces (there is a 50% discount when ordering by the case).
The generic 1.975" x 5.5" stock is also available with foil and coin rub security features Boca also offers generic "security" ticket stock, which includes a foil image and coin rub on the back of the ticket (see attached PDF). The cost is just a bit higher than the regular generic stock ($106 + shipping for a case of 10,000 pieces; $21.20 + shipping for a broken stack of 1000 pieces).
The generic tickets are available in the colors listed in the PDF (white, yellow, orange, pink, green and blue).
Ordering generic stock is very easy: customers request an order form and send it to Cathy Adams (Cathy@bocasystems.com). The order will typically ship within 1-2 days.
Other ticket stock vendors
Ordering ticket stock from Michelle Caio with Admit One Products:
Contact Michelle Caio with the details of your order and ask to receive a quote - 714-514-1729 - michelle@admitoneproducts.com
For Boca, you will want the thick solid black timing bar. Call or email Michelle with any questions.
Troubleshooting
See Ticket Printing troubleshooting document.
Ticket stock can be ordered from Boca directly (see below), or other ticket stock printers such as World Wide Ticket Craft (see below). Just make sure your stock is designed to work in your specific printer. Thermal ticket printers need black timing marks printed on the back of each ticket in the correct location in order for the printer to work correctly. The placement and size of that black timing mark is critical for your specific printer.
Support Discount for Arts People Clients:.
Phone support by BOCA support representatives is offered as part of an installation service package. Please contact BOCA support for pricing.
1 year support via email is included on all new printers as part of warranty. This does not include phone support.
Older printer support is offered to Arts People clients at 20% off the normal at $100/hr level 1 support, and $200/hr level 2 support. (When contacting for this support remember to mention that you are an Arts People client.)
Other reading
Mid-range Thermal ticket printer - Stimare SML