Testing your barcode scanner
This article reviews how to test barcode scanning before performances begin.
We'll be setting up a fake performance, processing test transactions to get tickets for that performance, scanning these tickets, and then deleting your test transactions and fake performance.
Testing steps
1) You'll need to be a primary user to complete this testing

This testing involves creating and deleting test performances and test data. These steps must be completed by a user with a primary login. If you're not sure whether you have a primary login, reach out to your account administrator.


2) Confirm barcodes have been setup on your tickets

If you already know you have barcodes on your tickets, you can skip this step.
If you are testing mobile tickets you can skip this step, but make sure that mobile ticket delivery is turned on.
a) Via Setup > Printable designs, click "Preview design" for both Letter-sized and Box office ticket designs. It should display the most recent ticket sold in your account. If a ticket does not appear, please contact your CS Representative.
b) If you see a barcode on both the letter-sized and box-office ticket designs, you can continue to step 3.
c) If you don't see a barcode, please contact your CS Representative by submitting a Help Desk request to let them know you'd like barcodes included on your tickets.

3) Setup a performance you can use for testing
a) Navigate to Setup > Performances. In the show dropdown menu in the upper left, select any show.
b) Create a performance with today's date, and set the time to a few hours in the future. To do this, scroll to the end of your performances list and enter the date and time into the "Date and Time" field, using the exact format suggested.



For example, if I wanted to test today, I'd enter a date and time that will give me the whole day to test if I need to, so I'll enter 8/24/2018 7:00pm
c) Select the same venue that the other performances have.
d) Scroll further to the right until you find the column titled 'Not avail online'. Check that box to ensure that the performance doesn't appear online.
e) In the column to the right, un-check the box titled 'On calendar?'
f) Click 'Save' on the far left.

Note: Deleting the performance once you're done testing is an important step so that you don't accidentally sell tickets to this fake performance.

3) Purchase tickets to the test performance using the Test Transaction method
a) Navigate to Box office > Box office sales.
b) Enter your name and click "Lookup existing patron". If you aren't yet in the database, click "Save new patron" instead. Be sure you are on your own patron record before processing a test transaction. If you are testing mobile tickets, it's important to make sure that a primary email address is saved under your account.
c) On the right side of the page, find the test performance you just created and select it.
d) Select approximately 10 tickets to the performance.
e) If you're testing printed tickets, select the "Print at Home" delivery method. If you're testing mobile tickets, choose the "Mobile Ticket" delivery method.
f) To process a test transaction, select the "CC" payment method and enter your Arts People username into the CC/Cardswipe field (your username is what you use to log into Arts People)
g) Click "Sell Tickets"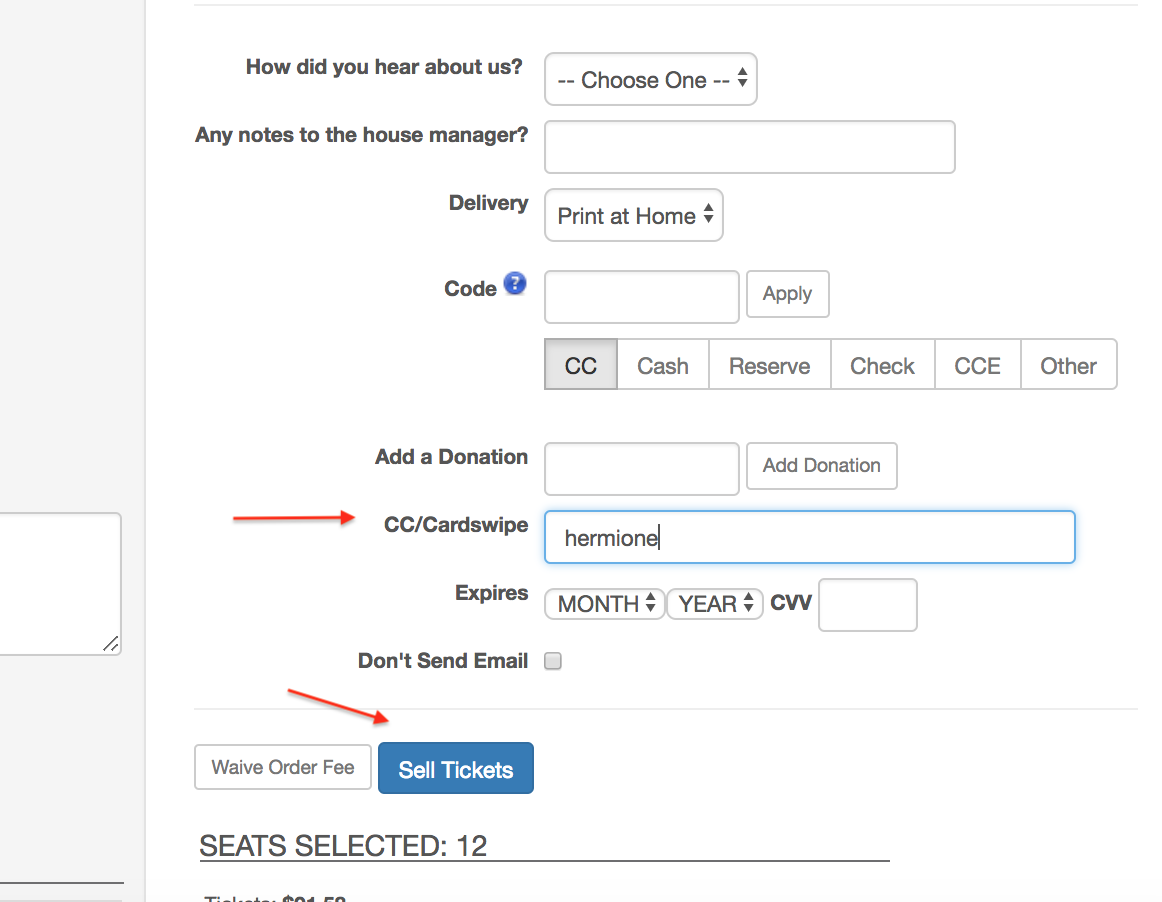 4) Print your test tickets
If testing Mobile Tickets, you can skip this step and open your ticket from the confirmation email
Do you want to test both Letter-sized tickets and Box office tickets?
a) Select the Letter-sized ticket from the Ticket Printing page that appears after you complete your purchase, and print using the compatible printer (Desktop/Laser printer for Letter-sized).
b) Select the Box office ticket and print with the printer compatible with the box office ticket (BOCA or DYMO).


5) Scan your tickets
a) Navigate to Box office > Scan Tickets and connect your scanner to your computer.
b) Select your test performance
c) Place your cursor into the Barcode field.
d) Scan tickets
If using Arts People's Ticket Scanner App for iOS, sign into the app > select the test performance > and tap the "Scan" button to scan tickets using the phone's camera.


6) Important: Delete your test transactions and your test performance
Be sure to complete this step so this performance isn't confused with a real performance
a) Go to Database > enter your name > click Lookup existing patron.
b) Scroll to the bottom of the page and click the red button towards the lower left that says "Remove test data". Select OK when the system asks for confirmation.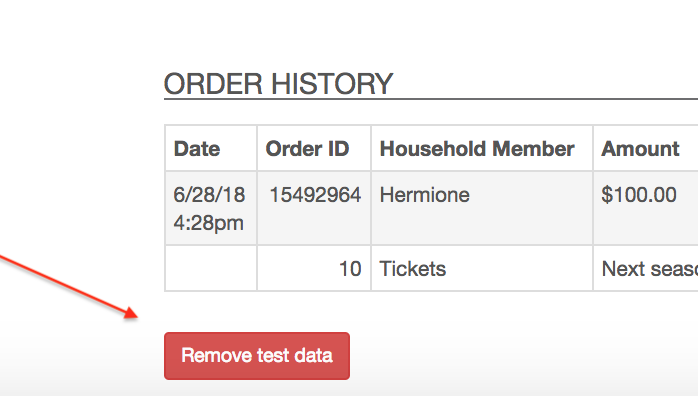 c) Go to the Setup > Performances and locate your test performance
d) Delete this performance by clicking the red "X" on the far left. (This performance will not delete if there are any test transactions remaining. All transactions must be deleted.)



Did you have trouble with any of these steps?
Please reach out for help by submitting a request to your CS Representative.