Arts People accepts PayPal as a payment method on the public pages for patrons buying online only (not via box office).
Cost
Arts People charges a fee of $25 to set up PayPal as a payment option on your account. Your organization should contact PayPal to create an account with them if you do not have one already. You will need a business account.
Using PayPal in your Arts People account
Once configured, the public checkout/payment screen will include a "Pay via PayPal" option, that when selected by the patron will hide the standard credit card payment information and fields for that order, and take them to a secure PayPal payment screen when they click continue.
Once the patron processes their payment on the PayPal site, they are returned to the Arts People confirmation screen to print out their tickets and/or receipt.
Reporting will reflect "Paypal" as the payment method for the transaction.
Refunds
Refunds via PayPal must be processed in the Paypal system through your Paypal login. They cannot be initiated through the Arts People system. If you refund via Paypal you can then enter payment method of the refund in Arts People as "CCE" (Credit Card External). Alternatively, you can refund back via cash, check, or by issuing a gift certificate.
Test transactions
Test transactions cannot be processed via PayPal. Use our standard test credit card method to input a test transaction.
Recurring donations
Recurring donations cannot be processed via PayPal. If attempted the system will present an error message to the patron to input a one-time donation if they wish to use PayPal.
Payment/Checkout page
The public checkout/payment page with PayPal activated, but credit card default option selected: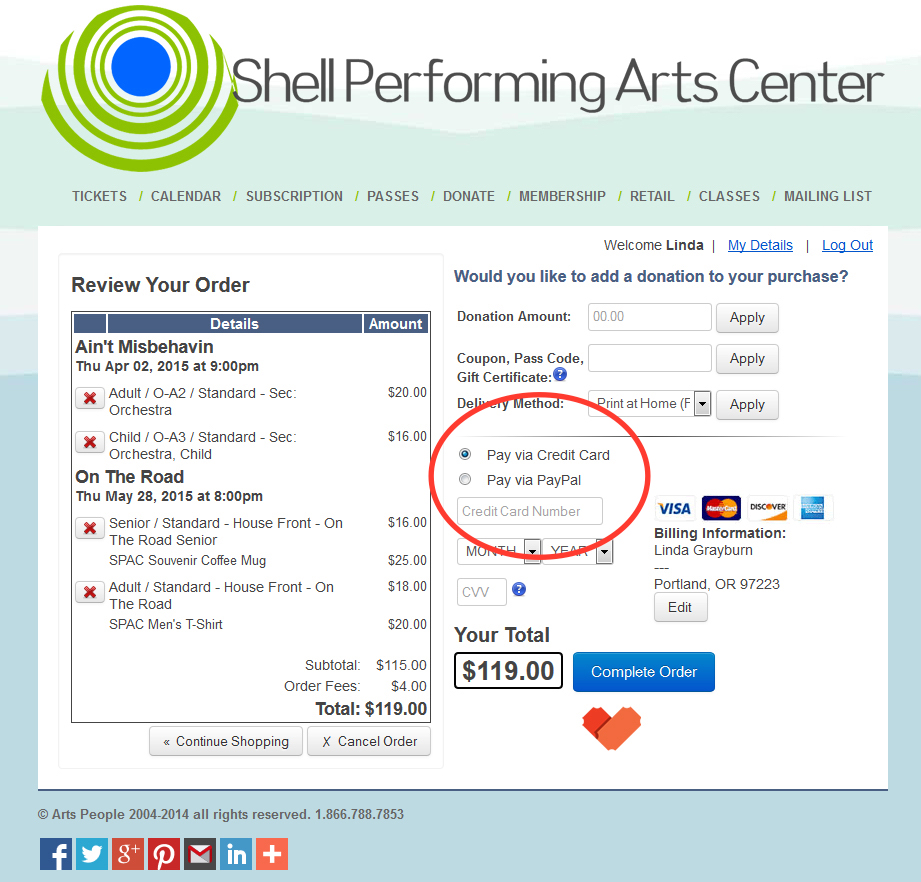 The public checkout/payment page with PayPal activated, with PayPal payment option selected: